D. Z. Church
A man would only add children and hard labor to the prison time.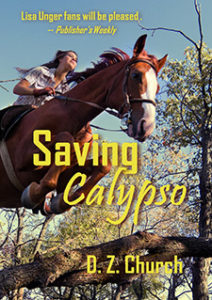 Well, I suppose to make romance work, all good heroines need to resist it first. That is certainly the Hallmark approach. Meet cute, trouble arises, and true love follows. As I suspect you are all aware, life doesn't work that way, well at least for most, though I did meet cute many, many years ago, so . . . really, who am I to cast aspersions. Still, I appreciate a heroine who is a little crustier and who isn't looking for happy ever-ever, someone like Calypso Swale in Saving Calypso.
Calypso is on the run, all alone, and hiding out from one man in particular. She's built a life for herself off the grid which she cherishes, knowing she will lose everything if she found. Then he shows up, that he, the one she fears most. Does she get all soft and gooey? Heck no:
"Last time I saw those shoulders the owner stumbled drunk out of the car he used to kill my mother?" she snarled. "Turn and face me, Washburn. Just do it!"
Grieg's feet were frozen to the cold ground. Snow drifted onto the shoulders she remembered and onto his sopping hood.
"Put your hands out to your side. Now!" Grieg held his arms out as though being arrested, a position he knew too well. "Turn around, keep your hands out. If you don't, I'll shoot you, and I'm a good shot."
A bemused look flitted across Boomer's face, followed by arched eyebrows. Grieg got it. Jessie Woods couldn't hit a barn with the gun barrel against the wood. Grieg turned.
"Wipe that grin…Oh, crud, oh hell, sweet mother, crap." A roar split the air.
Trust me, Saving Calypso is an exciting and fun romp from there to the end. Saving Calypso is available on Amazon.
Or Miss Cora Countryman, nineteen and single with no intention of marrying, nor can she given that her mother bilked money from half the town, took a hike, and left her daughter to repay the debt. The heroine of the Wanee Mysteries, Cora lives in a small prairie town in Illinois in 1876, a time when women married, had babies, worked their lives away, and died. Saddled with a boarding house to run, her mother's debts, and no one to support her, Cora sets about making the world she envisions for herself, refusing to wear her hair up, accept suitors, or marriage. Oblivious to her charms, she goes about solving mysteries and seeking adventure.
From Unbecoming a Lady, the first book in the Wanee Mysteries, currently scheduled for release this Fall:
"I will come out when I am ready. Right now, I like my skirts shorter, my shoes showing, and my hair in a braid. Especially with summer coming. And especially with this hair." She flipped the end of her near waist-length, chestnut braid, bound with a hank of leather.
"It is just that, from all appearances, you are on your own now. It may be in your best interest to attract a young man to help take on your worries. Most Wanee girls of your age are married or spoken for, is all."
…
Cora sighed as she returned to the kitchen, counting the years of work that lay before her like a death sentence. A man would only add children and hard labor to the prison time.
From A Confluence of Enemies, Wanee Mysteries, book 2, currently due out in 2023:
Dry leaves crunched under their feet as they crossed the park, their bodies stirring a breeze in the hot otherwise dormant air. Taking a deep breath, Josiah said, "You should not torment Mr. Kanady. He is young, and you, my dear, make him cocky. He is the best man we have in this town."
"And Dr. Shaw?"
"I amend, among the best men in this town. But, Cora, my dear girl, what am I to do with you?"
"Advise me. Help me wend my way through the trials of womanhood. I do not wish to marry, Josiah. I want to travel, to see things I cannot see from my front porch, to wear trousers if I wish and not be judged. Please."
Josiah patted the hand Cora had wrapped over his right forearm.
Oh, what will she do? Two suitors and a vision of her future that includes neither. Is there some compromise, will some suitor consider her an equal partner and provide her that life of mystery and adventure? Until that man comes along, if he ever does, Cora is unrepentantly uninterested in marriage, long skirts, wearing her hair up, and kowtowing to anyone. That's my girl.
Janet Dawson
Ah, February. Romance, Valentines, romantic stuff. Or not.
We're taking a decidedly contrarian view of the whole hearts and flowers thing. For example, Jeri Howard. In Kindred Crimes, first in the series, she's divorced from a brief, ill-advised marriage to an Oakland police detective. Why did I give Jeri an ex-husband, much less a cop? At the time I wrote the book, it seemed like a thing for a female PI to have an ex who was a cop, all the better to access information.
Since then, Jeri has had a checkered romantic history. Mark in Kindred Crimes—that wasn't going anywhere but future "just friends." In Till the Old Men Die, she got involved with Alex, a Navy officer. Like all military men, he got transferred to another duty station. In Nobody's Child, she met Dr. Kaz Pelligrino. Nice guy. So nice he volunteered for Doctors Without Borders.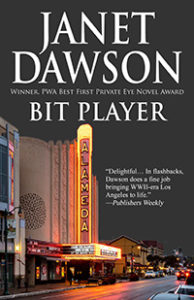 In the tenth book, Bit Player, Jeri meets Dan, a travel writer, divorced, with kids. His grandma was a bit player in Hollywood, just like Jeri's grandma. Jeri and Dan hit it off and start a relationship. In Water Signs, he kinda sorta proposes and Jeri kinda sorta agrees to think about it.
"Last week when you came over for dinner, you asked if I'd ever thought about getting married again."
He nodded. "I wondered when we were going to get around to talking about that."
"You took me by surprise" I said. "I didn't know what to say."
"You looked as though I'd knocked you for a loop." He smiled. "Have you thought about it, in between solving crimes?"
I took a sip of my wine. "I have."
"Come to any conclusions?"
"Not quite. I would say the case is still under investigation."
In the book I'm working on now, The Things We Keep, they are living together in her Oakland house. She refers to him as her fiancé.
But I haven't set the date, and I don't know if I will. This may be a long engagement. Jeri's resisting. So am I. There's the issue of the inconvenient spouse. Jeri solving crimes and all that with a husband at home. Well, Dan writes books about hiking in different places. I can easily send him off to some national park to tramp around and do research.
Then there's Jill McLeod, the Zephyrette protagonist of my historical mystery series set in the early 1950s. She lives in an era where expectations are that a nice girl like that will get married and raise a family. In fact, that's what Jill planned to do after she graduated from college. But her fiancé was killed in Korea, as readers learn in Death Rides the Zephyr.
In that book, she meets Mike Scolari, a World War II veteran who is traveling with his grandfather. In subsequent books, they are dating. By the fourth book, Death Above the Line, Jill is getting those questions. You know, the ones about whether she and Mike plan to get married.
But she doesn't want to, not right now.
She liked Mike a lot, and the feeling was mutual, but so far both of them had resisted the matchmaking attempts that came from all sides. Mike wanted to finish school and get established in his career before any such move. Jill liked being a Zephyrette and she knew she'd have to leave the job if she got married.
I don't think wedding bells are in the immediate future for either of my protagonists. Hearts, maybe. Flowers are okay. As for the chocolate, make sure it's dark!
D. Z. Church
Recommendations: I tend not to read when I'm in the middle of writing. That's my excuse for not having a book or author recommendation for this month. If I do read while writing, I read old favorites that everyone has read a thousand times. I admit a fondness for Inspector Adam Dalgleish, I've always had a crush on him. If somehow you missed P.D. James, start reading now.
And the new All Creatures Great and Small on PBS is pure joy. It is currently in Season 2. We just started Season 1 so have lots of fun ahead.
Doings: I have a list of things I need to do, including offering a box set of the Cooper Quartet, planned for March release. That is if I can ever finish the first full draft of A Confluence of Enemies, to keep that on schedule. I'm so close it hurts, but close doesn't count. Sometimes it's the last chapters that are killers. You know, the part where you wrap everything up and set a hook for the next book. That part.
My January blog appeared on the Ladies of Mystery site (LadiesofMystery.com, the fourth Thursday of the month, as always). The list of bloggers on the site is terrific making it a suitable place to discover someone new to read.
Truth is, I have all these plans but seem to be stuck in the winter and Covid doldrums. Sigh!
Janet Dawson
Recommendations: Another vote for the PBS series All Creatures Great and Small. It's a delight. As for books, if you like a bit of the supernatural with your crime novels, try Harm None, the first in a series by Will North. It's set in Cornwall (Poldark territory!). An archeological team digging at a Stone Age site uncovers a skeleton. Nothing usual there, except the remains are of recent vintage. A hard-nosed detective sergeant meets her match in the local wise woman/witch. Someone else winds up dead and a child goes missing.
Doings: I now have the rights to all the books I published with Perseverance Press, which closed down last year. I've just published new ebooks of  Bit Player, Cold Trail, Water Signs, and The Devil Close Behind, as well as all four books wrapped into The Jeri Howard Anthology, Books 10-14. All of these have great new covers. You can get acquainted with Jeri Howard's first nine cases in The Jeri Howard Anthology, Books 1-9, which will be free February 17-20. I am also planning on republishing the ebooks of the Jill McLeod/California Zephyr series, also with new covers. Stay tuned for that.