D. Z. Church:
Clothes: Function and Social Standing
I am researching and writing a series that begins in the mid-West in 1876, a time when clothes were functional and telegraphed social standing.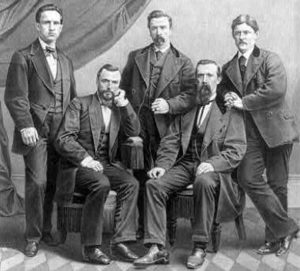 Zippers, though invented, held boots and tobacco pouches closed, not clothing, so the guys still relied on button flies. Men always wore a vest, typically of wool, suede, or lined cotton. Their shirts were generally made of colored or patterned calico. Today we think of calico as the printed fabric quilters rely on; in 1876, it was a plain-woven unbleached cotton textile. Serge, boiled-wool, or gabardine suitcoats, not dissimilar from those worn today, were de rigueur as were hats, the derby east of the Mississippi and the cowboy west.
For women, mutton sleeves were out, skirts were slimmer and gathered at the back in a modest bustle., Women wore a tight-fitting bodice (supported by whalebone or steel) over a toe-length skirt with a wide waistband. Women often purchased two bodices for each skirt to stretch their wardrobe, one for day and one for evening. The looser Basque bodice was in for summer, hanging as it did outside the skirt's waistband. A typical woman might have three dresses, including their Sunday go-to-meeting dress. Like my hero Cora, working girls wore unbleached calico smocks over ankle or calf-length patterned or plain calico dresses.
Calico, far coarser than muslin and less expensive to make, was the basic fabric of the prairie. Gingham (another plain-woven dyed cotton fabric typically striped, checked, or plaid in white and bright color) was equally ubiquitous. Muslin, the cotton used for everything from bedding to the finest dresses, grew increasingly delicate until it was all but see-through, showing shadowy undergarments beneath, including a corset, chemise, and drawers. All-in-ones are on the horizon, arriving in 1877.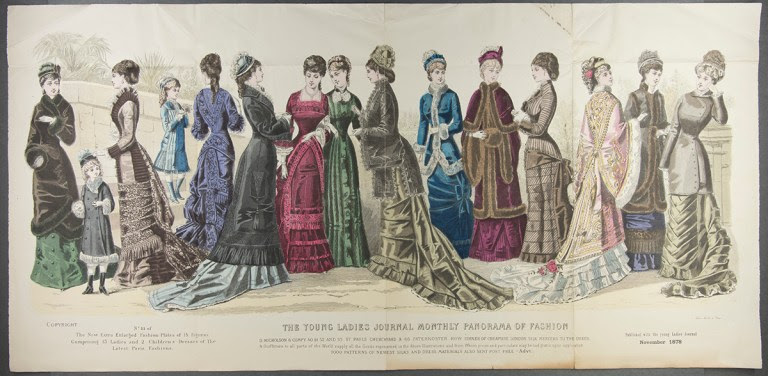 Girls wore their hair down during the day and braided at night. Married and marriageable ladies wore their hair in buns or logic-defying braids during the day then down at night as an enticement to their spouses. Women washed their hair once a month, otherwise brushing it nightly with a boar's hair brush to spread the oil throughout the strands.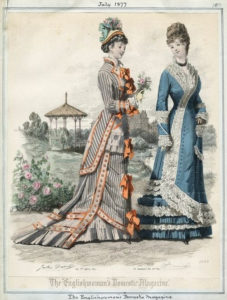 Cora has thick chestnut hair that she wears down, except for the occasional braid low on her neck, signaling that she is not interested in being courted. Especially by Mr. Sebastian Kanady, the newspaper's owner. Kanady wears dark pants that match his suit coat, a vest, and dyed cotton shirt, tending toward blue to highlight his eyes. When out, he favors a gray derby hat that curls his unruly mink-colored hair.
Though unamused by Sebastian Kanady, Cora is amused by a local woman who requests a dress of black paduasoy (a strong corded silk textile) to wear to a friend's summer wedding. The fabric is stifling and the color of widow's weeds. Cora assumes the lady intends a statement since black over-dying of any available dress would work otherwise. When the fabric, on order, does not arrive from Chicago, Cora substitutes black crepe, the traditional fabric for weeds.
Sewing for this woman has specific challenges, including her belief that her hips are half the size they are. Cora has a solution for that as well involving the bustle. A seamstress, Cora understands that clothes tell us everything about one's era, character, work, and where one lives.
Janet Dawson:
Clothes Make the Characters
Jeri Howard is a private eye in Oakland. She's quite comfortable in a pair of khaki slacks, a nondescript shirt, and a serviceable pair of shoes. If she's staking out a warehouse or following someone down a busy street, she doesn't want to be noticed.
It's my other series, set in the early 1950s, where I get to try on different outfits. Jill McLeod is a young woman in her twenties who works as a Zephyrette, a hostess on the train called the California Zephyr, which ran between the Bay Area and Chicago. Jill lives at home with her parents and siblings between runs. On duty, she wears a uniform, teal blue with a garrison-style cap. That was the extent of her attire in the first two books—Death Rides the Zephyr and Death Deals a Hand—unless you count her comfy pajamas. In the third book, The Ghost in Roomette Four, we see Jill off duty, which expands her wardrobe. In the fourth, Death Above the Line, she's back in uniform, this time playing a Zephyrette in a movie.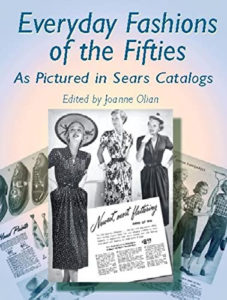 One of my go-to research books is Everyday Fashions of the Fifties As Pictured in Sears Catalogs, edited by JoAnne Olian, who says in her introduction: To leaf through the pages of a 1950s Sears catalog is to be transported into a Norman Rockwell vision of middle-class America with "clean-cut" young men, "ladylike" women, and "girl next door" teens.
As Olian points out, the prosperity of the post-World War II era brought huge numbers of Americans into the middle class. They had money to spend and they did. Also, manufacturers were mass-producing clothing, often made of new synthetic fabrics that were easy to care for, and these were sold at affordable prices.
When I look through the reproductions of those ads in Olian's book, looking for clothing Jill might wear, I see dresses at prices that seem tiny by today's standards, and plenty of options for Jill's wardrobe. She is indeed the type of young woman who would shop at Sears, or one of the department stores that used to populate downtown Oakland, such as Capwell's or Kahn's.
Like many women of that era, Jill (and the other female characters) wears shirtwaists and swing dresses, with wide circle skirts. Or the alternative to those big skirts, the sheath dress, with its form-fitting skirt and fitted top. They were often made with new synthetics such as Dacron, Orlon and Acrilon, and the advertising stressed how easy these fabrics were to care for—washable and needs little ironing!
Peter Pan collars! Gloves and hats! And bullet bras! Housedresses during the day and for parties or an evening out, a different image, such as a full-skirted dress made of a stiff fabric like taffeta or faille.


The passengers Jill encounters on the train, and the actress starring in the movie in the fourth book, now they get the clothes. Notable among them is the redoubtable Mrs. Grace Tidsdale, known to her friends as Tidsy, who likes to wear red. In her first appearance in Death Rides the Zephyr, she's wearing a mink jacket over a bright red dress and a tiny red hat on her brassy blond hair.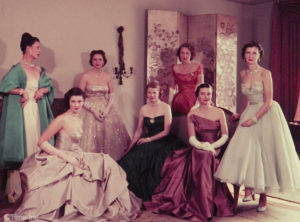 In Death Above the Line, when the cast and crew of the movie go to a party at the home of the producer, Jill wears blue and yellow silk organza, while Tidsy opts for a bright red silk cocktail dress with elbow length sleeves, a fitted bodice with a plunging neckline, and a full skirt. Leona Alexander, the sleek blond movie star, wears figure-hugging off-the-shoulder black satin, while Addie Collier, the hostess, wears midnight blue eyelash taffeta with a full skirt and gold buttons.
I was able to describe these dresses because I found photos online. There are lots of websites devoted to fashion, such as Vintage Dancer, and Etsy in particular is a great site to search for vintage clothing.
Tidsy does not shop at Sears.
D. Z. Church:
Recommendations: If you haven't watched Yellowstone, you might try it. It is a bit like watching the aftermath of a train wreck, and is violent, foul-mouthed, and may serve no purpose other than letting us know things could be worse at the dinner table. Still, it is fun, though I sometimes feel I should apologize for finding it so. It is worth a view to see if it is your cup of tea. The fourth season is just out and only available on Paramount and Amazon. The first three seasons are on Peacock and Amazon. It is a who and why done it in Montana. If it doesn't suit you, relish Longmire for the first time or all over again. Better yet, read the Longmire series.
I can't get the Little House on the Prairie books off my mind. Wonder why? There are so many good historical fiction series out there, I recommend finding one and diving in, perhaps start with The Beekeeper's Apprentice, by Laurie King, or dive into the Outlander series (Diana Gabaldon) to be flung back in forth in time. So, much good stuff.
Janet Dawson:
Recommendations: I thought 2020 was a hair-raising ride on the roller coaster, but 2021 has it beat. Even before I heard the news about the death of Broadway legend Stephen Sondheim, I'd been singing one of my favorite songs, from his musical Follies—"I'm Still Here." As that paean to survival says: "I got through all of last year." I feel that way about both 2020 and 2021! Hoping for better things in 2022.
Two weeks before Sondheim died, I was at 42nd St. Moon, the San Francisco theater company specializing in musicals. The show was my favorite Sondheim, A Little Night Music. I saw the first touring Broadway production in the 1970s. Other Sondheim faves are Sweeney Todd, the Demon Barber of Fleet Street and Into the Woods. I was fortunate enough to see the Broadway touring production of Sweeney Todd with Angela Lansbury, who created the role of Mrs. Lovett, and George Hearn, who replaced the original Sweeney, Len Cariou, on Broadway.
YouTube has a veritable trove of Sondheim performances, everything from concerts to the 1990 Lincoln Center revival of A Little Night Music. And there's a concert performance of Sweeney Todd, at the San Francisco Symphony, with the full-voiced symphony chorus and George Hearn and Patti LuPone in the lead roles.
D. Z. Church:
What's going on? The last book in the Cooper Quartet, Don't Tell, is now officially published and available at Amazon. All four books in the series are available and according to critics: The Cooper Vietnam Era Quartet is an intriguing and explosive military family saga filled with action-packed intrigue and mystery set against the tumult of the Vietnam Era, from 1967 through the Fall of Saigon.
I blog the fourth Thursday of each month on LadiesofMystery.com.
Janet Dawson:
What's Going On? My Christmas tree is up, decorated with the many ornaments I've collected over the years. My cats Bodie and Clio used to climb it but now the tree is smaller and the cats are older and larger. They are more likely to curl up under the tree for a snooze. What am I writing? Besides my Christmas letter? Still working on the next Jeri Howard book, The Things We Keep. I am making progress and hope to finish early in 2022.
The Jeri Howard Anthology Books 1-5 will be FREE December 20-22 and Take A Number, the third book in the series, will be FREE December 27-28.
Happy holidays and happy reading!