We thought it would be fun for readers to find out more about Janet Dawson and D. Z. Church, the two partners-in-crime who make up Bodie Blue Books. To that end, we posed questions to each other. We hope you enjoy the Q&A!
So what questions did D.Z. Church ask Janet Dawson? Here goes!
Who was the inspiration for Jeri Howard? What is her full name and why?
Jeri's full name is Jerusha Howard. I don't think I've ever considered her having a middle name. She is named after her grandmother Jerusha Layne, who was an actress in Hollywood in the 1940s (see Bit Player). Jerusha is a name found in the Bible and I first encountered the name in James Michener's book Hawaii, where the wife of a missionary is called Jerusha. But Jeri shortened it at an early age, because she feels more like a Jeri than a Jerusha.
Jeri Howard puts in her first appearance in Kindred Crimes. She was originally intended to be an amateur detective, non-professional, but the story didn't work that way. I decided she had to be a private investigator, in order to have a logical reason for poking around in people's lives. Getting hired to do something is a logical reason. Jeri's first inspiration was Ross Macdonald's private eye Lew Archer. I like the way Macdonald's plots always revolve around what happened in the characters' pasts and how that informs the story in the present. One of the best compliments I ever received was from a reviewer who interviewed me for an article after Kindred Crimes was published. The first words out of his mouth: "I can see that Ross Macdonald was a big influence."
Another inspiration: Marcia Muller's Sharon McCone. I recall how excited I was to find Muller's first book in the series, Edwin of the Iron Shoes. It was exciting to see a woman as private investigator after reading so many books where the protagonist was a man.
What drew you to write about the California Zephyr? Where do you go for information about how the Zephyrettes?
I became interested in historic trains, and when I found out about Zephyrettes, I had to write a novel about one. Zephyrettes were train hostesses who traveled aboard the original California Zephyr, which operated from 1949 to 1970. The Zephyrette was the only female member of the onboard crew and her job was to see to the passengers' needs, whether it was giving first aid, taking dinner reservations or making announcements and answering questions. Who would be better placed to solve a mystery aboard a train? Someone whose job it was to observe and be attuned to her surroundings and the situations that arise on such a journey.
I did research online, in libraries at railroad museums, and traveled on a special excursion train full of historic rail cars, up the Feather River Canyon, the historic route of the old California Zephyr, to Portola, California in Plumas County, site of the Western Pacific Railroad Museum. I discovered there were two former Zephyrettes living in Oakland, California. I arranged a meeting with these two women, Rodna Taylor Walls and Cathy Moran von Ibsch. I bought them dinner, turned on a recorder and we talked for over two hours. The information they provided was invaluable.
What is your writing process when you start a novel?
I think about a novel for a long time before I actually start it. An idea comes to me and I find myself making notes, thinking about characters and settings. When I actually sit down at the computer, I write anything that comes into my head. This phase can take weeks. Here is where the characters emerge. I learn what makes them tick, what motivates them. The narrative and structure also take shape. I know what I have in mind and where I'd like the novel to end. I ask myself, what needs to happen so that I get there.
What is currently on your plate?
I am revising a novel called The Sacrificial Daughter. The book takes place in a fictional town in the northern Sierra Nevada and features a geriatric care manager named Kay Dexter as the protagonist. It's been several years in the works. I'm planning to publish it under the Bodie Blue Books imprint. Not sure of the date yet. This novel is quite a departure from my two series. Jeri Howard is a private eye in the Bay Area, a real place, and Jill McLeod, my Zephyrette protagonist, also sleuths in real places, including the Bay Area and onboard the California Zephyr. It has been fun, and a challenge, to create this new character, Kay Dexter, and place her in a setting I've invented. It means creating the town, the county and its history and populating it with a large cast of characters.
If you could write a historical novel taking place in the 1800s where would it be set and what event would it encompass?
I just started writing that book. It takes place in New Mexico, 1877 to 1881. Why? I read Walter Noble Burns' book The Saga of Billy the Kid at an impressionable age. I was enthralled by the tale of the outlaw, and even more intrigued by the story of the Lincoln County War, a conflict over political and economic power in territorial New Mexico. The dusty main road that ran through the small town of Lincoln was once called "the most dangerous street in America," by none other than President Rutherford Hayes. The Hayes administration was pressured by the British to account for the death of rancher John Tunstall, a British subject whose February 1878 murder is considered the start of the war. Tunstall and attorney Alexander McSween were the leaders of one faction. The other faction was led by Lawrence Murphy, part of the powerful Santa Fe Ring that ran the territory. The war culminated in a bloody five-day battle in Lincoln in July 1878. McSween was one of those who lost his life in that carnage.
As for Billy the Kid, he was a ranch hand working for Tunstall and saw his employer murdered by members of the Murphy faction. He and several others formed a group they called the Regulators and began armed conflict with the Murphy faction. For decades, I've vowed to write a novel about Billy the Kid and the Lincoln County War, and I've been collection books on the subject for just as long. Now it's time. Coming soon, or eventually, a novel called Bloody Lincoln. I hope I can make it as fascinating for readers as it is to me.
Bodie Blue is named after our cats; tell us about Bodie, how did he get his name and how did he come to live with you?
Well, cats happen. As those of us who have cats know. Ten years ago I participated in a history field seminar in the old mining town of Bodie, California, now a state park, and a wonderful place for those who love history. Back at home, I looked out on my patio and spotted a stray cat sheltering under the rose bushes. I opened the patio door to investigate. I didn't see the two tiny kittens until they ran away in fright. What else could a cat lover do? I got out the can opener and started feeding Mama Kitty and the babies. One of the kittens was black, the other a classic striped tabby of gray and black. Over the next two weeks, Mama and the kittens showed up each evening to eat. At times, the tabby kitten would walk to my patio door and stare inside. It was as though he knew he belonged inside. I named Mama Kitty Lottie, after a Bodie resident. The black kitten was Clio, named after the muse of history. And the tabby was Bodie. One evening I opened the patio door. Bodie walked right in, to live with me and be my love. Early the next morning, Clio showed up, with heartrending meows, looking for her brother. I lured her inside with a bowl of tuna. I kept feeding Lottie, a long-haired calico, out on the patio. About six weeks later, I finally lured her inside, again with a bowl of tuna. It took a while, but she got over being a fearful stray and turned into a snuggly cat who vies with Clio to see who gets to sit on my lap. Bodie is my writing companion. He loves to stretch out on the back of my office chair.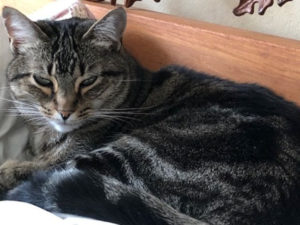 Turnabout is fair play, as the saying goes. Here are the questions Janet Dawson asked D. Z. Church.
What led to the Cooper Quartet? What motivated you to tackle that subject and what do you hope to show, education, elucidate, etc.? Why the Vietnam era and why these people?
Having served as an officer in the Navy at the bitter, and I mean bitter, end of the Vietnam War, I never fully dealt with the impact it had on me, personally. I was a young woman in the most misogynistic of services, okay, the Marines might be worse. I was surrounded by Navy pilots because I worked in Meteorology, part of the brown shoe Navy. Some of them were fresh home, as was a special SEAL, and my friends at Lemoore Naval Air Station, a mix of carrier pilots and rescue pilots. And they needed to talk before they went home to their wives and girlfriends. I often think that if the woman officers provided no service other than listening to and forgiving the men for their actions, essentially civilizing them before they went home to their loved ones, we deserved purple hearts.
I carried these stories and hurt and the complexities of being a young woman in a job where she wasn't respected like a ten-ton ball. Frankly, it gnawed until I realized I had a venue. The moment I started writing Dead Legend was the moment I began to free myself of my own sort of traumatic shock. If you wonder, are the stories true, I can assure you that Ensign Robin Haas speaks from my heart.
I hope when people read these books, they begin to understand the effect of Vietnam on our generation. No matter which side of it you participated in, whether you were spat on or held a sign or just didn't give a damn, the War fundamentally changed our society, our music, and our generation. It needs to be honored. The Coopers represent middle America. They start out believing our country right or wrong then grapple, grow, and change as the forces of the War invade their lives. I hope through the series, a reader sees the full arc of the War's impact on Americans, the Vietnamese, the French colonialists, as well as, the women who served.
The third book in the series, Pay Back, is due out this fall (2020). It propels the Cooper saga through the Fall of Saigon (April 1975) and the changing world back home.
Is there a real historical mystery that intrigues you that you'd like to write about?
Where did Amelia Earhart and Fred Noonan make camp after a successful belly landing, how did they supply information to the U.S. Navy, told through journals and the memories of their surviving granddaughter. Oh, wait, that is a historical conspiracy!
What attracted you to the setting of Perfidia? Saving Calypso?
I always loved books in which the location was a character. To write such a book you need intimate knowledge of a place, just staying there really isn't sufficient. Perfidia takes place in Barbados. I was lucky enough to live on the island for one glorious summer, really live there, adventure there, learn the culture, fall in love, sail, enjoy the beaches, and, yes, skinny dip in the waters of the Caribbean. I now live part-time in the Sierra foothills, eleven miles from the southern entrance to Yosemite National Park. It was only natural that the beauty and ruggedness would become a character in a book as it does in Saving Calypso. Both locales provide an air of mystery, adventure, and danger.
What's your writing process when you start a novel?
Each book in my Vietnam Era series begins with research, not only of the War but of the period, especially since it takes place during what I call near history. People remember Vietnam, what they wore, what they thought and felt, who they lost, and the fear and anarchy of the times. This means the potential is there for readers to catch anachronisms and errors instantly. Plus, in a series, the characters must be true to themselves, grow, and reveal themselves over the arc of the series. With a standalone set in the now, these restrictions don't apply. In either case, I begin with an idea, then a storyline, create the characters, let them wander around in my mind then start the first draft. I am not an outliner, telling the story as I progress keeps my interest up, sparks plot twists and lets characters surprise me. Of course, then I have to go back and make them behave, sometimes draft after draft.
What story is lurking right around the corner? What novel will you write next?
I am madly working on another standalone thriller, Booth Island. It takes place on a three-acre island in a large lake in southern Ontario, Canada. Place is definitely a character here. The story concerns a young woman who has gone back to the family-owned island hoping to come to terms with the drowning death of her brother many years before.
Bodie Blue Books is named after your cat Blue and Janet's cat Bodie. Tell us about Blue and how he joined your lineup.
My husband and I went to the Bakersfield, CA SPCA, or favorite, in search of a cat to replace my beloved and insane calico, Patz. They had several gorgeous calicos. I had my eye on one, when I turned around to find my 6' 2" husband holding a massive gray cat. With the eyes of a six-year-old boy, he asked, "Can I have him?" And so, no calico, but a tall, lanky Russian blue. Blue had been at the SPCA for over a year, his previous owners had named him Doo-Doo. We were warned by the SPCA that he was very vocal. We found out what they meant was he would not shut up, and he was LOUD! We named him Blue because Doo-Doo… well, at minimum, is undignified. One day I yelled "Silencio!" at him out of desperation. He looked shocked and quit yowling. Which is how we learned he spoke Spanish. Warning! Do not attempt to eat Carne Asada without a portion for him. He is a gentleman in a catsuit, soft of demeanor, and guards the bedroom door each night with all due diligence. And he is handsome!