D. Z. Church:
Everything I learned about writing mysteries I learned from life . . . and a Pierce Brosnan movie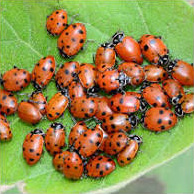 Life is full of mysteries. We all encounter them. Why are ladybugs red? Why do thunderstorms form? Why did so and so do that? What were they thinking? What did they hope to accomplish? What did they get when they won? Why were those two girls standing on that exact corner when a kidnapper drove by? Who would get in a Volkswagen with a surfboard on top in Ellensburg, WA, because a handsome man with a broken arm needed help? Why, and who, what, when, and where, too.
The answers to most of the questions are to achieve happiness, get revenge, get even, find love, survive, win, change your existence, or, maybe, you're just plumb crazy.
Who wouldn't write mysteries when we live one, and they are all around us?
Like most writers of mysteries and thrillers, I started writing by a circuitous route. I've always written, completing my first book at eight. It was horrible, mushy, and derivative of Gone With the Wind, which is all you need to know. Since then, the various paths I've taken involved being paid for writing. My jobs veered from Navy Public Relations to Head Creative Writer at an advertising agency, to creating writing assessments for students, training folks to assess student writing, and then writing the proposals to win statewide education contracts. Along the way, I dealt with lots and lots and lots of people, urging them to cooperate or to trust that my ad met their product's needs. I have trained large groups of people to work as a team to produce a consistent product. And tussled with small groups to retain integrity. All of which left me asking what drives people to lie, believe lies, and act on the lies they have told themselves or others. This is the very conundrum that I attempt to answer in my books as entertainingly as possible.
Standalone mystery-suspense
Perfidia is about a woman discovering a family she never knew she had, leading to adventure, betrayal, and love amongst modern-day pirates. Saving Calypso concerns two people whose lives are hostage to a traffic accident in their youths. One life is railroaded by a manslaughter conviction, the other by the secret she keeps. Five years later, the secret drives the story. Booth Island is about losing a brother to a joke, only to discover that the beliefs and memories of that day may not be as they seem.
Thriller Series
Thrillers and a bit more hardcore (warning: swear words), the Cooper series is the saga of a Navy family threading its way through the Vietnam era. In the first book, Dead Legend, two brothers, one Marine and one a Navy pilot, unravel the truth about their legendary father's death as pilots die over Vietnam. In Head First, the Coopers search for their kidnapped niece and for others lost in Vietnam. Pay Back concerns the fall of Saigon and repayment of debts racked up over the course of the war. The war ends in Don't Tell as the Coopers rush to find a missing sailor and save one of their own.
The Truth Is
The truth is, I write mysteries about the things people do to each other. I'm fascinated with it, can't help myself. So, for me, writing mysteries is cathartic, helping me understand and answer all of the questions posed above.
Janet Dawson:
How did I wind up writing?
Seems to me I've always done it. Telling stories in some fashion. When I was in the sixth grade, I wrote what I called a novel. It was a few handwritten pages and I illustrated it myself. It was a mystery. At least that's what I called it. Around that time, I also wrote a play, based on a book I'd read and enjoyed. My teacher was impressed. So impressed that my sixth grade class performed the play for the first- and second-graders. If memory serves, I played the lead. Well, after all, I wrote it.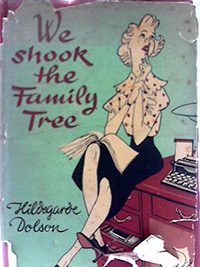 Then there was Hildegarde Dolson. What, you never heard of Hildegarde Dolson? She wrote nineteen books, including four mysteries published in the 1970s. She was also married to mystery writer Richard Lockridge. I haven't read any of her mysteries. I've only read one of her books, but it was a great influence for me. That book, We Shook the Family Tree, published in 1946, describes Hildegarde growing up in small-town Pennsylvania in the 1910s and 1920s. It's warm, funny, and the part that sticks with me, above all, is Hildegarde's determination to be a writer. I had, and have, the same determination.
Hey, Hildy, we both pulled it off!
I first read the book when I was in junior high school and that's when I learned that writers submit their work to magazines and publishers with the hopes of getting said work published. I wasn't just writing to suit myself. I was planning to send my work out and see it in print. If Hildegarde could do it, so could I. And so I did, but it took me a couple of decades.
That's when I started subscribing to the two magazines for writers, The Writer and Writer's Digest. I read all those articles and took them to heart.
As to what to write, well, remember confession magazines? Back when I was roaming the earth with all the dinosaurs, that was supposedly the way to get published. Write stories for confession magazines. I tried my hand at a few and it didn't work. Not my cuppa tea. Same thing with science fiction. It seemed that everything I wrote had crime or suspense components. And that's what I was reading, too. So writing mysteries was a logical trajectory for me.
When I got serious about writing fiction, I put myself on a schedule, getting up early to write in the mornings before going to work. I also took classes in crime writing and joined the local chapter of Mystery Writers of America. I find being in the company of other writers invaluable for learning the craft.
And reading. Lots of reading.
I read Nancy Drew mysteries, of course, but also suspense novels written by the prolific Phyllis Whitney. At one point, my mother subscribed to the Reader's Digest Condensed Books. That's how I discovered Nerve, a mystery by Dick Francis. It's still my favorite of his works. Later, I discovered and admired Ross Macdonald and his creation, private eye Lew Archer. Then I got excited when I encountered a book about a woman private eye, Sharon McCone. That book was Edwin of the Iron Shoes, by Marcia Muller. I never imagined that years later I would meet Marcia. In fact, she gave me a great quote for my latest book, The Sacrificial Daughter.
D. Z. Church: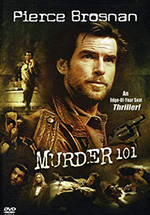 Recommendations:
Made in the 1990s, a nifty little movie titled Murder 101, starring Pierce Brosnan, is about a professor teaching a course in mystery writing. He asks his students to write a full-length mystery novel by the end of the semester. Then, class by class, instructs in what makes a good mystery. It is not only fun but highly informative. When it came out, Dead Legend had been languishing for years as a draft. The movie got me going. You might enjoy watching it, too.
Janet Dawson:
Recommendations:
I enjoy a good historical novel, and a good historical mystery. Author M. Ruth Myers writes a series featuring 1940s private eye Maggie Sullivan, who drives a DeSoto and hangs out her shingle in Dayton, Ohio. I recently finished her standalone, The Whiskey Tide. This one takes place in Massachusetts in the 1920s, with protagonist Kate and her sisters determined to save the family's home in Salem, threatened by a mountain of debts after the sudden death of their father—and their uncle's chicanery. They decide to use their father's schooner to run bootleg liquor from Canada, with the help of Joe, a Portuguese-Irish fisherman. An absorbing mystery, and when Kate and Joe share a dinner of fried clams, it made my mouth water! Fried clams! Where can I get fried clams in the Bay Area?
D. Z. Church: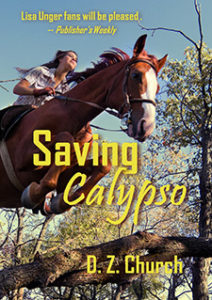 Saving Calypso will be just 99¢ July 5-12.
Booklife and Publishers Weekly agree:
"This well-constructed thriller provides plenty of action as well as a glimpse into the cutthroat world of intellectual property and mineral rights profiteering… Blackmail and murder are also at the forefront, thanks to a bounty of colorful characters whose needs, jealousies, and ambitions drive the solid story. The protagonists are unusual and compelling. Their mutual need to reinvent themselves in order to survive will resonate with readers as the double-crosses and questions pile up. This is a satisfying look at the devastation wrought by selfishness."
—Booklife Reviews
"In the tantalizing prologue of this twisty thriller from Church (Head First), the enigmatic Calypso Swale decides to leave her home for the second time in six months… Flash forward four years, in Kenya, Grieg Washburn learns that his father, Ray, has been blown up by a bomb in Syria… Readers will keep turning the pages to see what brings Calypso and Grieg together in the present day. Lisa Unger fans will be pleased."
—Publishers Weekly
And:
I've also posted a blog, It's a Heat Wave, on LadiesofMystery.com. And I am madly finalizing Don't Tell while erstwhilely delving into a new historical mystery series that takes place starting in 1876 in a small town in Illinois.
Janet Dawson: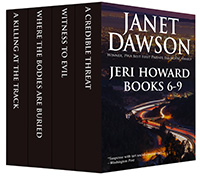 The Jeri Howard Anthology, Books 6-9, will be free July 9-11.
I'm working on Jeri's 14th adventure, The Things We Keep, and I've reading the 60,000 word mark. So I guess it's a book. I have a lot of work to do, though. I'm also making notes for a suspense novel that takes place in Rocoso County, the fictional setting I created for my most recent novel, The Sacrificial Daughter. Hey, if I'm going to make up a place, I might as well use it.
Remember: Always take a minute to leave a review!