How do we get our protagonists from Point A to Point B—and places in between? Often that depends on the book we're writing. The location, the setting, the period and the characters. Some characters ride in limousines, others would rather not. The mode of transportation should reflect a character's personality. A car, as we all know, is a reflection of our world view and interests. An eight-passenger all-wheel drive car says something quite different from a beat-up, rat-chewed, four-passenger all-wheel drive car. Just as riding a swift, well-trained horse is different than sitting a plow horse. Characters are all on their way somewhere . . . the mode and the method are integral to the tale.
D. Z. Church
Planes, Trains and Carriages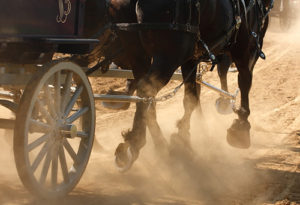 One of the challenges of writing historical mysteries and thrillers is travel. What mode is correct, how long does it take to get anywhere, and what challenges does it present to the plot.
In 1876 when Unbecoming a Lady takes place, horses and carriages are the main mode of inter-city transportation. And, while the train brought the ability to cross the continent and expanded the reach of those seeking new land, it also played a major role in the uneasy growth of small towns, like the fictional Wanee. In 1876, the rails were still being laid from small town to small town. It was easier to take the train from Chicago to San Francisco than from Galesburg, Illinois to Wanee, a mere 39 miles away. Even today, it takes 2 hours and 20 minutes by train, unless you take the Carl Sandburg Express, which takes only 28 minutes. A bit of a difference, eh?
That same 39 miles on horseback is a two-day ride. Though it can be done in one day, to the detriment of both horse and rider. Anyone who ever sat in a saddle for ten hours will attest to this. The small towns in the Midwest average around twenty miles apart, considered a reasonable day's ride. It is also a bumpy, dusty carriage ride of around five and a half hours at a walk. At a natural walk, horses manage about four miles an hour, just like a person. A horse can go faster for a short distance, so combining walking with an easy trot the distance might be covered in three-quarters to half the time. Making it possible to go out twenty miles and return the same day, as Cora Countryman does to see her brother in the next farm town north.
In more modern times, the heroine in Perfidia grabs a commercial flight, well, several to reach Barbados. The trip from Bakersfield, California takes her over a day, flying east and switching airlines. She leaves the dry air and low growing crops of the San Joaquin Valley and lands in the wet heat of the Caribbean surrounded by a wall of fifteen-foot-high sugar cane. That simple fact not only sets the scene in Barbados but signals that Olivia Lassiter is now out of her element.
In Saving Calypso, Grieg Washburn's drive in a jeep from the small town of Oakhurst, California into the Sierra Nevada is hair raising and enlightening. By the time he reaches his destination, he worries about retracing his route and surviving the rugged, intimidating environment.
Boothe Treader of Booth Island is reliant on a small boat for provisioning and escape which can be risky if the water is rough. Though Boothe knows exactly what to expect, she is still taken by the isolation of the family island and her reliance on a boat, a dock, and the weather.
The Cooper family saga books run the gamut of transportation from Douglas A-4s, and Huey helicopters flown off aircraft carriers during the Vietnam war to automobiles and motorcycles. One might even consider a 1948 Panhead Harley-Davidson a central character in the books.
Planes, trains, automobiles, and horses transport my characters. Each adds an element of interest, reality, fun, and possible danger to a story. The wait for a boat. A horseback ride out on a snowy night for much needed medicine. A horse-pulled travois the only way out of the mountains. No boat on an island, just a light to signal. A helicopter to rescue others in war. Oh my!
Janet Dawson
A Little Traveling Music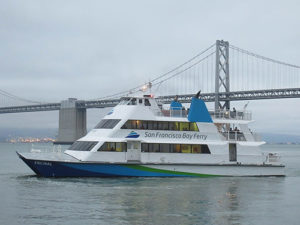 Jeri Howard is a contemporary protagonist, a private investigator who operates out of an Oakland office. In her latest case, The Things We Keep, she drives her trusty Toyota to get from place to place. She travels all over the Bay Area, from the Niles district of Fremont in the south, all the way to the North Bay counties, following leads to Petaluma and Point Reyes Station.
In other cases, Jeri hops a jet to destinations here in the United States. And in Witness to Evil, she heads for Paris where she sees the sites in addition to following leads via Metro, train, taxi and plain old shoe leather.
At times she will take the ferry across San Francisco Bay, as she does in several books. Or walk from her office to a BART station, taking a train through the transbay tube over to the city.
Of course, traveling by BART has its complications. In one book, Jeri gets pushed onto the BART tracks.
Travel is different for my 1950s-era sleuth, Jill McLeod, introduced in Death Rides the Zephyr. She's a Zephyrette aboard the streamliner known as the California Zephyr. The train moves a lot faster than a car, depending on where it's traveling. Even the CZ goes very slowly indeed when winding through rugged mountain terrain or following the twisting course of a river. And the route is limited to where the tracks go.
When writing the books, I immersed myself in maps and timetable. Maps, of course, to know what Jill and the train's passengers will see as the journey progresses. And timetables to know when the train will arrive at various stations. I found that there were other timetables as well, letting me know when crew changes would occur. I even consulted historical data on sunrises and sunsets. The vista from the train's Vista-Dome is different in June, with its long summer days, than it is in December, when it gets dark early in those Rocky Mountain canyons.
I'm working on a historical novel set in 1877-1878. In the early chapters, my protagonist Catriona MacNeill travels from southern Colorado to New Mexico territory, to join her Army officer father at a fort. She travels, as many Army families did, in a converted ambulance fitted up for the journey, loaded with supplies and drawn by two stout horses.
As my newsletter mate D. Z. notes, horses walking or pulling a wagon travel at a much slower pace than a car. The roads aren't graded and paved. Nor will Catriona and her companions spend nights at hotels with electrical light and running water. Instead, it will be dusty or muddy roads through mountains and along rivers, camping out at night, and making sure horses are fed, watered and safe from predators. Meals will be cooked over campfires, using supplies they have and augmenting the menu with fish from the streams and whatever game they can shoot.
It's been interesting to calculate how long it will take them to get to their destination. And to pick the route. Some of these roads aren't there any more, such as the one I have in mind. It was created for the Army after the Civil War, to move troops from one fort to another.
As for traveling music? Jeri listens to Patsy Cline on long road trips. Catriona sings one of the popular songs of her era. I'm sure you'll recognize it.
"I'll take you home again, Kathleen."
D. Z. Church
A Lovely Place for Mayhem: Denver International Airport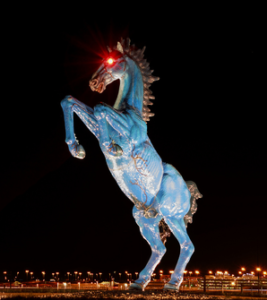 In keeping with the theme.
I have always considered Denver International Airport the perfect setting for murder or any sort of mayhem really. There is just so much to work with there, including the larger-than-life mustang with the glowing red eyes that greets you as you drive in.
I'm not alone; conspiracy theorists are enthusiastic about the airport, once macabrely called DOA by the locals. It was built to replace Stapleton International, known primarily for wind shear that sent landing airliners first sharply to the left, then sometimes sharply to the right, the airfield unmoving below. DIA is an improvement over that, but is it safer?
There are winged thingies that cover the terminal like tents at a circus. I'm amazed Tom Cruise hasn't slid down one on some "Mission: Impossible." Inside has escalators between the usual floors, though the baggage claim is on the same deck as check in, and that is unusual. Which likely excludes a killer who lives under the escalator, re: "The X Files." The baggage carousels beg to flop bodies up and out onto the rotating stainless-steel conveyor. I know it's been done, but here I see someone collecting the body and putting it in the ski racks for later. The ski bag rack could easily accommodate a body standing up.
A traveler could disappear between the terminal and a rental car bus. Car renters must cross multiple lanes of traffic to reach the buses. A quick snatch, a grab, and off the victim goes. I hope the person is counting bumps and listening to noises like Liam Neeson in "Taken 2."
Even the restaurants could become deadly, not just poisonings, but the occasional toss from the second floor into the security line. I can see the folks in the security line stepping over the body to avoid missing their plane, including the murderer. It would make a great scene.
And then there is the train from the concourses to the main terminal, ample opportunity there. The trains are designed so travelers cannot access the tracks, but there must be a way in to service them. There are these whirly things set off by the speedy trains (public art) that seem destined to have a person pursued, their pursuer shooting as they outrun the next speeding train. Or more simply a push, a shove, a grab on leaving the car.
I always think of this when I am in the mass of folks moving out of the train toward the escalator up, jockeying to be the first in line, balancing their carry-ons on the too small steps. Makes me think of all the great thrillers that end in crowded theaters, packed arenas, and ballfields. Makes me think of "Experiment in Terror."
The A Train to Denver has an open station, a simple shove onto the third rail and well?
And the public art. Everywhere. Big. Not just the giant mustang. I mean everywhere. It can fall, you know. Oh, the possibilities.