Janet Dawson
Significant in the long run
A reader once asked me if Jeri Howard was ever going to have another boyfriend. Well, maybe. Jeri was recently divorced in the first book, Kindred Crimes. That gave me a good excuse to make her somewhat shy of relationships.
In Till the Old Men Die, she had a romance with a Navy officer. He got orders to another duty station. There was the doctor in Nobody's Child. He joined Doctors Without Borders. She met a travel writer named Dan in Bit Player. By the end of Water Signs, they had kinda sorta agreed to think about marriage. They haven't progressed past that. Jeri is reluctant to commit to matrimony. As her creator, so am I.
With a series character, particularly a long one, it can be difficult to sustain a significant other relationship. Think about it. What does Dan do while Jeri is out sleuthing and solving crimes? In The Devil Close Behind, Jeri goes to New Orleans and Dan is away, doing research on a book. That's why I made him a travel writer, so I could get him out of the plot from time to time.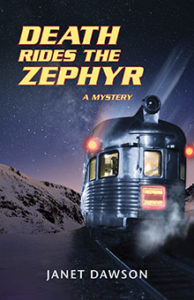 Zephyrette Jill McLeod is the protagonist in the California Zephyr historical series, set in the early 1950s. As the reader learns at the start of Death Rides the Zephyr, Jill was engaged, but her fiancé died in Korea. She moved on and became a Zephyrette, a train hostess, and for that job, she must remain unmarried. She does have a boyfriend, Mike, but she likes riding the rails. She's not in any hurry to get married—despite the societal pressure of the time, which assumes that she should have a husband. Besides, Mike is going to college and would rather defer marriage until he graduates and establishes his career. Works for me as well as Jill and Mike.
My new book, The Sacrificial Daughter, features Kay Dexter, a 50-something geriatric care manager. She never married, though she's had a couple of near-misses and several long-term relationships. She left a practice in the Bay Area and moved back to her hometown in the Sierra Nevada. She does have a significant other, Sam Jermyn, a divorced history professor at the local college. I've had a lot of fun exploring the relationship between these two self-sufficient professionals. After all, Sam is what Kay calls "middle-aged sexy."
D.Z. Church
Relationships: True Love/ True Angst
Ah, February when the focus is on finding true love. Or true angst. Writing valid, moving relationships across a series of books requires attention to detail, remembrance of things past, and a vision for the future. The characters need to stay true to themselves throughout. Part of the fun of reading is charting a main character's growth over time, including interactions with others, for instance, lovers, likers, and haters. I write a series, and I write standalone suspense tinged with romance.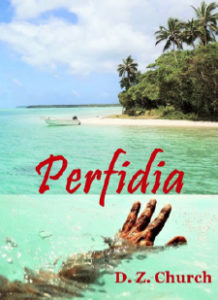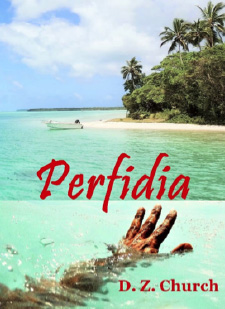 Romance
Finding a hero or heroine that one can count on through crisis drives Perfidia, Saving Calypso, and Booth Island (available February 9). Perhaps, romance will result. The possibility of finding or needing another creates emotional tension. It's not easy to sustain it successfully in a thriller though when done well it adds depth and nuances suspicion and conflict. I am particularly fond of the three suitors in Perfidia; each has their own weakness and own fears but share the need to save their ancestral home, Perfidia. The heroine, Olivia Lassiter, is the key to their success or failure. And she is unexpected, bright, and wily. It's fun. Is there any sex? No, but there are some crazy, sexy, fun, dashing flirts and kisses. Does Olivia make the right choice? I don't know, not really. Right up to the end, it could have gone…
Every author has a favorite romantic character or two. They can't help themselves. One of mine is Chief Warrant Officer Dan Cisco, who arrives on the scene in Head First of the Cooper Quartet. He's funny, engaging, and complex. Another is Grieg Washburn, Saving Calypso, who considers that though he came to save Calypso, she will likely save him. And so, a book titled Gridlines became Saving Calypso. Also, he's adorably goofy and strong.
Family
The Cooper Quartet is my series about a military family during the Vietnam War. Family relationships are formed by the past and driven by the need for respect, mooring, and love. In writing the arc of the series, I purposefully ensured that each female lead establishes her footing, defines her world, and frees herself. After all, 1967-1975 were prime for female self-discovery. It shows in the relationships they choose and the decisions they make about those relationships.
For example, Robin Haas, a Navy Ensign as the series begins, has played second fiddle to her cousin, First Sergeant Laury Cooper, all of her life. She loses her girlhood and teen-hood to his alcoholism and grief. It has made her tenuous, unsure, and guarded in her relationships. What she needs most is someone who, for no particular reason, adores her. She's deserving of love, but will she recognize it if it come along?
As for the familial relationships, Laury Cooper lost his adored father and has mistrusted his brother, Byron, for abandoning him and moving on too quickly ever since. As the series opens in Dead Legend, the two Cooper boys are exceptionally estranged. Laury's distrust of Byron has grown to disgust. Conversely, Byron needs his brother's love to become a decent man. Everything and everyone comes too easily to Byron. His family calls him Slick because, like Teflon, nothing sticks to him. Laury is a warrior and faith-keeper hesitant to trust anyone but Robin. The brothers' need for each other provides much of the ying and yang of the Quartet.
And, so, relationships make the world and books go round.
Recommendations
J.D.:  I love a good cold case mystery. In fact, there's one in the Jeri Howard novel I'm working on now. Check out the Karen Pirie series by Val McDermid, the prolific writer from Scotland. Inspector Karen Pirie works on cold cases in and around Edinburgh. Start with A Distant Echo. A TV series is in the works. McDermid is also co-creator and executive producer of Traces (BritBox). The series involves a young lab assistant delving into her mother's unsolved murder. I'm enjoying it.
Check out the Kings River Life Magazine mystery podcast. It's called Mysteryrat's Maze. Episodes consist of mystery short stories, and first chapters of mystery novels, read by local actors. To listen to the episodes, and subscribe to the podcast, you can go to mysteryratsmaze.podbean.com, and find them on Apple Podcasts, Spotify, Google Podcasts and more. Featured authors include Cleo Coyle, Elaine Viets, Jeri Westerson, Dennis Palumbo, Kate Carlisle, and many more!
D.Z.:  If you like relationships that build over time, shift, and grow toward and away, you might try C.S. Harris's Sebastian St. Cyr books. Start at the beginning and relish St. Cyr and his wife, Hero, from their rocky start onward. And I recommend Elizabeth Peters's Amelia Peabody books. They are not only darn good historical fiction, especially for anyone interested in Egyptology, but the relationships in them are delightful and engaging from Crocodile on the Sandbank onward.
J.D.: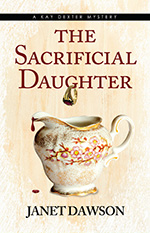 Coming attractions, or Light up the Marquee!
The Sacrificial Daughter will be published in paperback and ebook in mid-February. It took me several years to write this book. I was writing it as I juggled other commitments, books in the Jeri Howard and California Zephyr series. The sacrificial daughter is a term meaning the adult child of elderly parents who spends a significant amount of time looking after Mom and Dad. Back in the old days, that might have been the daughter who didn't get married and lived at home, taking care of her parents. These days, both sons and daughters are involved in eldercare.
Here's a preview:
A family at war, and Kay Dexter is caught in the crossfire.
Geriatric care manager Kay Dexter is savvy, fierce and determined as she protects and advocates for elderly clients. Kay left the big city to care for her parents in their small mountain town, so she knows from experience that eldercare is hard on families.
Betty Garvin needs Kay, especially when her daughters battle over Betty's care. Kay tries to mediate the dispute, and finds herself on the front lines. Is there more to the conflict than the sisters' concern for their mother's health? Does Betty's valuable estate come into play?
When the two daughters go to war, someone winds up dead. And Kay could be collateral damage.
D.Z.:
Booth Island is available, and other doings.
My new book, Booth Island, will be published and available on Amazon in eBook and paperback format on February 9. If you're wondering what it is about, here you go: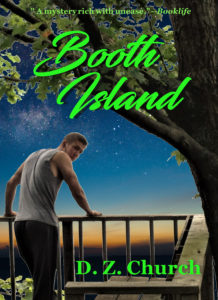 It's been nine years since Boothe Treader summered at her family's island. Twelve since her brother died on its rocky shore. She has never forgiven him for abandoning her, her parents for divorcing or the dark-eyed boy who watched him drown. The stranger, the killer, no punishment that let him live could ever be enough. So, she wished him dead each passing day.
Now, her mother has deeded her the island. Her dead brother is beckoning her back to visit. And old friends are lining up to welcome her back — or are they?
An excerpt from Booklife's review of Booth Island: Church crafts a mystery rich with unease and an exhilarating climax while also offering a bold portrait of Canadian lake life. Great for fans of Gillian Flynn's Dark Places, Karen M. McManus's One of Us is Lying.
My current blog, Calypso Swale is smarter than me and I created her, is available at Ladies of Mystery (ladiesofmystery.com).
You might also enjoy wandering through my website dzchurch.com, and sign-up for the newsletter, if you haven't already, while you are there.
J.D.: This, That, and the Other
I've been thinking about ghost towns. I grew up in Colorado and live in California, and there are plenty of ghost towns, many of them relics of the days when prospectors were searching for that elusive lode of gold or silver. Though ghost towns can be found all over the country. The Oklahoma farming community where my mother was born is now considered a ghost town. Decades ago, I explored the old mining town of Caribou, Colorado, high in the Rockies, and found a cemetery and building foundations. I imagine the forest has reclaimed the place.
I have two books by artist Muriel Sibell Wolle, Stampede to Timberline, about Colorado, and The Bonanza Trail, about ghost towns in the west. These are valuable resources, because Wolle was roaming around the west in the 1930s-1960s, sketching all those ghost towns that aren't there anymore.
Then there's Bodie, not my cat, the town. It's a mining town in arrested decay, high and dry northeast of Mono Lake. Well worth a visit. You can find out more here.
My website at janetdawson.com is being updated to include information on the The Sacrificial Daughter, so keep checking that. Also, I'm blogging on the first Monday of the month at Ladies of Mystery. That's around the corner, February 1 in fact. This latest blog post is titled Revising the Landscape, so check it out.
D.Z.: Observations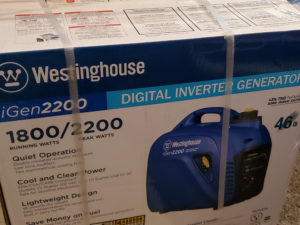 We recently had a 100 mph wind that tore the shingles off our roof, brought down trees and wires all over the area, and left us without power for six days. I learned, not in order of importance, are:
Who you know is everything. Our realtor gave us the name of a roofer, who no longer did repairs but recommended someone who did and gave me explicit directions as to what to say. As a result, our roof is fixed, unlike the others in the neighborhood.
Pacific Gas and Electric ain't all bad. You know love-hate, hate-love.
Buy a small gas generator so you can charge your phone, jetpack, and other stuff.
And to enjoy the adventure!