D. Z. Church:
Naming characters is an art, while cats name themselves?
We have had a succession of cats, as most cat people do. In the beginning, each cat had a P name, Princess, Paranoia, Paco, QuePasa (Pasa), Penny, and, well, Blue. Mind you, this isn't an exhaustive list, but a representative one. Just two of these cats spanned 38 years of our lives. Our crazed calico, Patz, lived to 18, and Penny, a tortoiseshell, just left us three-months short of 21. Patz was a classic calico and absolutely bat guano nuts, which is one definition of Patz. Penny was a different story. Though she was adorable, we didn't adopt her immediately; instead, we drove off. About five miles later, her little face popped before mine, claiming her name was Penelope Jane. And, so it was to be.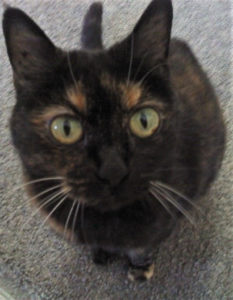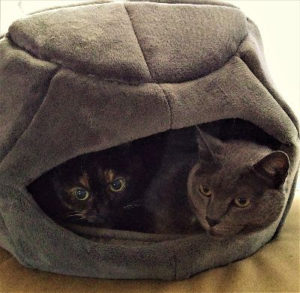 Penelope Jane, left, and Blue, right, hiding in a cat cave with Penny.
Which leaves us with Blue, whose name when adopted was DooDoo. We searched for a more dignified name that he would answer to, trying several, none seemed to please or suit his big Russian Blue-ness. So, there you go…Blue. Blue-blue works great, as does One Cat, Two Cat, Red Cat, Blue Cat if you're trying to call him in for the night.
Wouldn't it be lovely if naming characters were as easy? Everyone in a book needs a name, the good, the bad, and the walk-ons. That's a lot of names. And they need to be distinct, no Ray, Tay, Jay, or too many starting with the same letter. Also the given name should fit the period, the locale, and the character's character. Whew!
The females. Naming, Robin Haas (Cooper Quartet), Olivia Lassiter (Perfidia), and Calypso Swale (Saving Calypso), and newest addition Boothe Treader in Booth Island.
For Robin, I needed a unisex name that was more feminine than not. One that complimented Haas (a surname common to Southwestern Michigan). Robin met the ticket and suits her well. For Olivia Lassiter, I needed something feminine that sounded a bit Southern-fried with a coating of steel. It wasn't as sassy a name as she wanted, but I did my best. Olivia, she is and will remain, no matter how she argues.
Poor Calypso, she needed a name that implied privilege and frivolity. The kind of name that happens when wealthy parents choose to mark an occasion, like a wild night in Mustique. Ah, Calypso. In her surname, I looked for one that undulated and conjured life, as a swale does. Calypso is delightful enough to keep men captive and fluid enough to be unbreakable, as she proves in Saving Calypso.
Booth is Boothe Treader's mother's maiden name, which conjures certain reactions, mostly negative. Treader, her last name, evokes treading water. Her friends call her Boo, like Boo Radley in To Kill a Mockingbird. Twelve years after her brother's drowning, Boo is still seeking closure for him and for her. But is she willing to pay the price? Booth Island is due out February 1, 2021.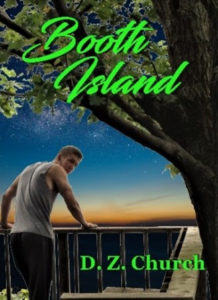 Draft Cover for Booth Island, forthcoming February 2021
The males. Naming, Byron and Laury Cooper, Dan Cisco, and Harry Stillwater, all of the Cooper Quartet, Brendan Whitelaw (Perfidia), Grieg Washburn (Saving Calypso), and the coming, Finn Sturdevant (Booth Island).
I'll start with Finn. I chose the surname Sturdevant because I wanted a Northeastern US last name and not a common one. Sturdevant came to me. The fact that it means to take a leap was perfect. Once that was settled, I needed a name that invoked wily and raised questions about substance. That's a lot to ask of one name—in walked Huckleberry Finn. You get the connection. Finn Sturdevant was slated for a book I was plotting and am currently writing. But he insisted he belonged in Booth Island, and nothing I could do would dissuade him.
Now I'm short a name for my next book, and the character is an important one. I'm semi-stuck on Tay Chandler, a Canadian. Tay is the name of a river in Ontario, and Chandlers settled there. I always check the regional rolls for surnames. But who knows, Tay may want to be in another book, too. Then what?
In all cases, the names chosen imply character. Byron is cocky and dashing, Laury is as thoughtful as he is tough, Dan is joyful and filled with light, Harry is open and generous. Brendan Whitelaw is street smart and elegant. Grieg Washburn loves rocks. Think Hall of the Mountain King and scree washing into mountain streams.
So many names. Del Lassiter. Feron deBanco. Mike Gagne. Tim O'Dell. Rafe Bolt. Boomer Bognavich. Delia Washburn. Chloe Minotier. Kathryn Van Streain. Meg Dixon. I can hardly wait to meet the next batch of people who insist on sharing their stories through me.
Janet Dawson:
The naming of cats—and characters
Cats tell me what they want to be called. Once I adopted a silvery gray tabby with green eyes. I was going to call him Peter Wimsey. When I got him home, he told me his name was Gus.
A decade ago, I came home from a historical research trip to Bodie, the Eastern Sierra ghost town near Mono Lake. When I arrived home, I discovered a long-haired calico cat curled up in one of my flower beds. When I opened the patio door to investigate, the wary calico and her two tiny kittens scrambled back under the patio gate.
What's a cat lover to do? I got out the can opener.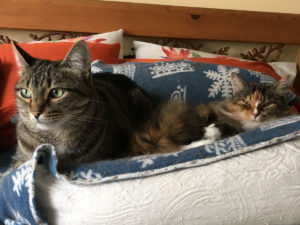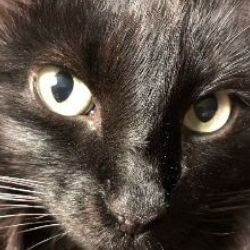 Left, Bodie snoozes on the bed with Mama Kitty, aka Lottie. Right, Clio.
I began feeding Mama Kitty and the kittens. One kitten was a gray striped tabby, the other was black. After dinner, the tiger kitty would come to my patio door and stare in, as though he knew he belonged here. Two weeks later, I opened the door. Tiger kitty strolled right in and made himself at home. When the black kitten showed up, I lured her inside with a bowl of tuna. It took me another two months to capture Mama Kitty. She was wary enough to know that's what I had in mind, but hungry enough to show up for the patio feeding.
I knew I was going to keep them, so I named them. Mama Kitty is Lottie, named after Lottie Johl, a resident of Bodie. The black kitten is Clio, who was the muse of history in Greek mythology. That tiger kitty who knew he was home is Bodie.
Naming the characters in my books can be a bit more difficult. I have two series, one featuring Oakland private investigator Jeri Howard and the other a historical mystery series with Zephyrette Jill McLeod. That's two protagonists with names that start with the letter J. And that's why I seldom name the other characters J names.
While I'm writing a book, I often go through two or three names before I settle on one that suits the character. In my notes I refer to characters by their initials. This helps me realize that I have too many characters whose first or last names start with the same letters. It can be confusing to have a Mary, a Margaret and a Martha all in the same book. I also avoid using the same name in different books. Right now I'm working on a Jeri Howard novel. I have a character I was going to call Sylvia. But I had a Sylvia in another Jeri Howard case, Bit Player. So the character in the new book is now Gloria. And you know, it suits her better!
When I'm searching for character names, I always visit the Social Security website, here. It has a feature that displays the most popular names, decade by decade. John, William, Robert are stalwarts, along with Mary and Emma. Though sometimes what was popular decades ago is a surprise.
I also like to reflect the diversity of the Bay Area. The work in progress has a character named Lakshmi Srinivasan to show the large East Bay population of Indian Americans. In Water Signs, I had an FBI agent. He could have been John Smith, but he was Vietnamese American, so I named him Duc Ngo. Till the Old Men Die dealt with the area's Filipino American community, with a Navy officer named Alex Tongco and the murder victim, a professor named Lito Manibusan.
There are some unexpected pitfalls in choosing names. There was a character named Elizabeth in my first Jeri Howard novel, Kindred Crimes. I chose the name because it has lots of diminutives—Betsy, Beth, Lizzie—all of which the character had used through the years. I found out later that a relative named Elizabeth felt slighted because I'd used "her" name. I've used other family names in my fiction, not surprising, since I have a large extended family and some of those names are common.
My intention in choosing a character's name is to find the name best suited to the character. It could be something that sounds strong for a strong character, or something that goes against type.
For example, there's Mrs. Grace Tidsdale, who makes her debut in Death Rides the Zephyr, the first California Zephyr mystery, and continues to grace the pages in subsequent books. If you haven't met her in one of my books, what do you think Mrs. Tidsdale looks like? Is she a sober, strait-laced, proper matron?
Not quite. Grace Tidsdale puts in her first appearance in chapter 2 of that book. She's dressed in her favorite color, red, including the hat perched on her brassy blonde hair. There's booze on her breath and she's weaving back and forth as Jill and the porter help her board the train. The chapter ends with: The blonde winked one mascaraed blue eye. "Never fear, Tidsy's here."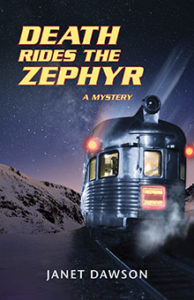 I like the name Kate. It's strong. Besides, I had a grandmother named Katie. But there are a lot of characters out there named Kate. For my new book, The Sacrificial Daughter, featuring a geriatric care manager, I wanted a one-syllable name that sounded strong. I chose Kay. For her last name, Dexter. To bring us full circle, I once had a cat named Dexter. And a lovely cat he was.