We had a subject in mind for this month's newsletter, but life is full of hurdles and detours, pitfalls and crises.
So we'll keep it short and promise a longer newsletter for December.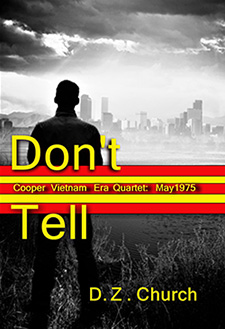 The big news this month is from D. Z. Church.
Don't Tell, the fourth novel in the Cooper Quartet, the story of a military family set against the turbulence of the Vietnam Era, will be released on November 11. A Reedsy Must Read, the reviewer notes, "This author is an expert at action-packed intrigue and mystery."
Don't Tell takes place in May 1975, days after the fall of Saigon to the North Vietnamese. The U.S. evacuation has come and gone. In the wake of the chaos, Laury Cooper is forced to deal with rumors of double-dealing and drug-running after his explosive exit from Saigon. When CDR Byron Cooper calls his brother from an aircraft carrier on station in the South China Sea, things turn from threatening to just plain nasty.
Meanwhile, in California, Navy Lieutenant Robin Haas has problems of her own. Her Leading Chief has disappeared days before his Review Board and possible expulsion from the Navy. It's not like him to run. His neighbors aren't much help, but CWO Dan Cisco, back from Saigon, is at her side burdened by a secret of his own. One that will change both their lives.
It will take all the Coopers and their contacts to make this one come out right.
"Church spins a lively tale where motives are unclear in a vividly realized hothouse naval environment. The engaging characters and their detailed histories make this a satisfying capstone to a wide-ranging epic." —Booklife Reviews. Read the full review.
The Cooper Quartet begins with Dead Legend, followed by Head First and Pay Back. The critics agree the Cooper Quartet is:
"An intriguing family saga" —Kirkus Reviews
"Ideal for fans of wartime stories and sweeping family sagas" —Booklife Reviews
"A successful portrait of a family, trying to survive during extremely trying times under extraordinary circumstances" —Reedsy, Must Read
Available at Amazon in ebook and paperback. Hardcover coming.
Janet here. Despite the aforementioned detours and crises, I'm still working on The Things We Keep (or at least thinking about it), the next Jeri Howard book. In the meantime, The Jeri Howard Anthology, Books 1-9, will be FREE. November 26-29.