D.Z. Church:
This summer has gone a lot quicker than expected given… well, everything. It has been weird not to skip out for errands, see family, and vacation. But it has given me time to catch-up on all things writing. I now blog the fourth Thursday of each month, as in 9/24, on the Ladies of Mystery site. Sisters in Crime discovered Zoom, and the meetings and seminars have been excellent and enlightening. I've also been hanging around now and again with Janet, Heather Haven, author of the Alvarez Family Mysteries, and Margaret Lucke, author of the recently published House of Desire. It's nice to chat with other authors, to ask each other's advice, bolster each other up, and share a virtual cup of coffee.
And, did someone say it's September? With a release date of September 1, Pay Back, the third book in the Cooper Vietnam Era Quartet, is newly available on Amazon. Pay Back has gotten rave reviews. BookLife wrote:
"This novel can be appreciated as a standalone story, but readers will get more enjoyment from reading the whole quartet in order… Ideal for fans of wartime stories and sweeping family sagas, this taut tale delivers a heady mix of intrigue and history that will keep readers on the edges of their seats."
And Reedsy Discovery awarded Pay Back a Must Read:
"The plot is intricate and historically accurate. I couldn't put this book down; I stayed up until 3 AM to finish it. Anyone who cares about history, suspense, relationships and the inner workings of a wartime experience should read this book."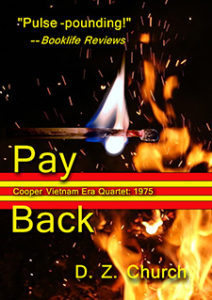 I loved the challenge of placing my characters in jeopardy. As the North Vietnamese Army surrounded Saigon, the internal tumult intensified, the city twanged with fear, waiting for the tumultuous evacuation to begin. Historical accuracy was a must, even with my very own creations stuck in the middle of it all. And, since some of the action was in Michigan, I had to deal with the time difference, ensuring that events happened on the correct day. Including the Fall itself. We think of it as April 29, 1975. It was April 30 in Vietnam. Makes your head spin. If the reviews are any indication, I achieved my goal to write a fascinating thriller true to the history and the times. Pay Back is available on Amazon at this link.
To celebrate Pay Back's release, Dead Legend, the ebook of the first Cooper book, is free 9/1-9/5 and Head First, the second book, is 99¢, 9/1 – 9/7 on Amazon.
Places to create mayhem or leave, find, or hide what you've done
As I think about the locales for each of the Cooper Vietnam Era books, I realize how ordinary most were. For instance, a farmhouse basement, a warehouse (albeit in war), a cabin in a redwood forest, officer's quarters at a military base, and a park overlooking the Pacific Ocean. Places people frequent, places people live.
Like all writers of mysteries and thrillers, I store places that would be perfect locations for killing or committing mayhem in my brain, in a notebook, or on my phone. For instance, taking a walk with a friend on a foggy night on the cliffs that rim the Pacific Ocean. Wait, I used that. Okay, then how about Point Sur Lighthouse with its long walk up a steep hill to the lighthouse keeper's home, the vastness of the ocean below, crashing up against the rocks. Shipwrecks, people screaming for help. Were there mooncussers, too?
Come on, you know it's the perfect spot to find a body, maybe one washed up by the sea, maybe one meant to be found washed up by the sea, maybe a body that isn't dead, maybe… How about the Monterey Jazz Festival, a body could languish in the paddock of the grandstands until well into some foggy old September morning and then still be mistaken for a drunk.
Then there are Whistler and Blackcomb Mountains, cheek by jowl, in British Columbia, and head deep in snow. It conjures all sorts of evil possibilities, lots of places to kill, dispose of, or find a body, or scare someone to, well, death. Ski lifts in the boonies. A two-mile tram over nothing but a valley, way, way, way far below. And the best part? The über rich to college students ski there, drink there, and well…do stuff there. It is loaded with bars, hotels, liquor stores fine places to get lost or make an enemy. So many possibilities…so very, very many. Hmmm.
Well, you get the idea. So did Mary Roberts Rinehart. Yes, she is a golden oldie, but if you haven't read any of her books, or haven't read them in years, it's time to rediscover her. My personal favorite has always been The Yellow Room. I love the returning World War II veteran angle, and the locked-up vacated summer home in Maine with a killer on the grounds and many, many shadows. Do read it! It's in libraries everywhere and online, almost anywhere, including Amazon and Amazon Kindle. It's one of the best!
And if you're looking for something a little off-beat from Ms. Rinehart's usual, try Dangerous Days. WWI threatens to tear apart the lives of a group of Easterners, including Clayton Spencer, an ambitious businessman, who must risk everything to be with the woman he loves. More than being a great read, it leaves you with an unsettling feeling and deeper understanding of the War's effect on those in the U.S. As we say at our house, it will give you paws!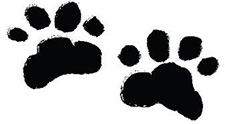 Janet Dawson:
September. Wow. The summer zipped by. Or Zoomed, since I've been sitting in on lots of meetings. Checking in with fellow writers is fun. It's also an opportunity to reveal how much my hair has grown.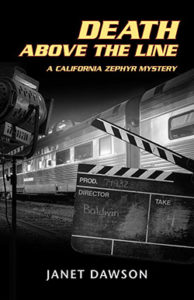 Jill McLeod is back! Death Above the Line, the fourth book featuring the sleuthing Zephyrette, will be published September 9. This installment takes place in the autumn of 1953. The New York Yankees and the Brooklyn Dodgers are battling it out in the World Series and California Governor Earl Warren has just been sworn in as the Chief Justice of the Supreme Court.
Jill, however, is not riding the rails. She's on a movie set. In book three of the series, Jill met a director who said she'd be perfect for a role in his film, playing a Zephyrette. Yeah, sure. Never happen. Yet here she is, on a movie set in Niles, California, wearing a costumer's version of her uniform and lots of makeup.
Fun, right? Well . . . Maybe not. Emotions and conflicts swirl around the cast and crew. Plus nobody likes the pain-in-the-butt studio executive whose visit to the set leaves trouble and resentment in his wake. Somebody winds up dead and true to form, Jill finds the body. She is drawn into the investigation, with lots of suspects, both on the set and off.
Why set the book in Niles? The town has a history associated with railroads and movies. Nestled against the East Bay foothills, at the mouth of a canyon, it was an important stop for the Western Pacific and Southern Pacific Railroads. The old California Zephyr stopped here after leaving Oakland on its eastbound run, and Niles was the last stop before the CZ headed home to the railyard by San Francisco Bay.
The Essanay Film Manufacturing Company had its western branch in Niles. Gilbert Anderson, otherwise known as Broncho Billy Anderson, was a co-owner. And yes, he did spell "Broncho" with an "H", something that has caused my copy editors to wield red pencils and then back off. Essanay made movies in Niles from 1912-1916, starring Broncho Billy, who not only acted but directed and wrote scripts. Charlie Chaplin's "The Tramp" was filmed in Niles Canyon. To read more about Niles and its connection to railroads and the movies, check out this article on my website.
As my Bodie Blue Books partner D. Z. Church mentions above, let's talk about place. What location calls to me as the scene of a crime? For me, it's Guam. I was stationed there when I was in the Navy, from 1975-1977. Guam is the largest island in the Marianas chain, part of Micronesia in the Western Pacific. It has been a U.S. territory since 1898, when the United States captured the island during the Spanish-American War. Since it's on the other side of the International Date Line, it's "where America's day begins." The land mass is about 210 square miles and when I lived there, you could drive around the island in less than four hours.
It has a fascinating history going back centuries, but my interest is World War II and the aftermath. Guam was invaded by Imperial Japanese forces on December 8, 1941, just hours after the attack on Pearl Harbor, and suffered a brutal 31-month occupations. American forces liberated the island July 21, 1944. When I arrived, the war had been over for thirty years, still present in the minds of older Guamanians. The scars were everywhere, from the burnt-out tanks on the reefs to the unexploded bombs that turned up all over the island. I have a plot in mind, set in the 1970s, with echoes back to the war. Since I've lived there, walked along those beaches and hiked into the forests, I think I can do the place justice.
Let's talk about other authors who use place effectively in their books. Where to start? I'll go with Mary Stewart, in any of her books, especially those that take place in Greece and France. My favorite, though, is Wildfire at Midnight, which takes place on the island of Skye, off Scotland's Northwest Coast in the Inner Hebrides. It made such an impression that the first time I went to Great Britain, I had to visit Skye. It's a stark yet beautiful place with jagged mountains and winding roads. The book takes place in a hotel where the guests have hidden agendas and the plot has mountains, mythology, rituals—and murder. I reread Wildfire at Midnight recently and it made me want to visit Skye one more time.
I'm now blogging with the Ladies of Mystery. It's a group blog featuring fabulous writers and I'll be posting on the first Monday of each month, which in September will be Labor Day, September 7.
Also on that day, a free ebook! The Jeri Howard Anthology, Books 1-9 contains the first nine cases for Jeri Howard, my private eye protagonist. By all means, download a copy.
HAPPY READING!