Janet and D. Z. both have new books coming out March 15!
Janet has an old series—well, let's call it long-standing. This latest book, The Things We Keep, is #14 for private eye Jeri Howard. It's set in the present, so in that way it's new. But the plot takes us back years, to the Sixties, so that's old.
In D. Z.'s case, Unbecoming a Lady features a spanking new character—Cora Countryman—and it's the start of a new series. Talk about old, though. The book is set in in the 1870s, over a century ago.
Janet Dawson
Everything Old is New Again
A new book! For a writer, that's always exciting. And satisfying. Hey, I pulled it off again!
The Things We Keep will be published March 15. The ebook is available for pre-order now. This is a new case for my oldest character, Jeri Howard. I don't mean old in years. Believe me, I'm aging a lot faster than she is. Jeri is the character I've been writing the longest. This is #14 in the series for my Oakland PI.
Heather Haven, author of the Alvarez Family Mysteries and the Persephone Cole Vintage Mysteries, read the book and calls it, "A riveting and satisfying mystery."
I hope readers agree with her!
First line, first chapter—Jeri says, "It looks haunted." She's talking about an old Victorian house in Alameda's West End neighborhood. She adds, "I had a feeling this old house had secrets, lots of them." And Jeri is about to find some secrets.
As the book cover says:
TWO HUMAN SKULLS ON A PILE OF BONES.
Oakland private eye Jeri Howard is helping friends inventory the contents of an old house. When she pries open a battered Navy footlocker hidden in a dusty storeroom, she finds human bones. Whose bones? How did they get there—and why?
Jeri investigates, determined to find answers and put flesh on those bones. Her quest takes her back decades, to the Sixties. To San Francisco, where hippies gathered in the Haight district, drawn like moths to the flame, and bands played rock music at dives, hoping for that one big break that would lead to success. To Alameda, when the Vietnam War was at its height and the Naval Air Station was home to thousands of sailors. And the Zodiac Killer's terrifying murder spree that frightened the entire Bay Area.
As Jeri digs into the past, a ruthless killer has much to lose—and could strike again.
* * *
Are you hooked yet? I certainly hope so. Let's whet your appetite with a few hints. When Jeri starts digging into things, she finds herself going where the clues lead her. At times, she seeks information from people who are willing to talk. "So," one character says. "You want to talk about my evil twin."
Another person resists when Jeri presses for answers. "How am I supposed to remember that? It was a lifetime ago."
Then there's the Internet, where Jeri searches a missing persons database: "The faces of the missing stared back at me. So many people, their lives and those of their families interrupted. Birthdays and anniversaries uncelebrated, questions unanswered."
I hope you'll buy a copy of The Things We Keep. If you enjoy it, please leave a review.
D. Z. Church
Something New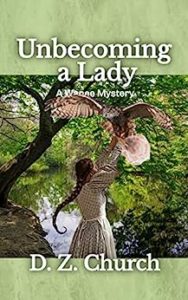 It's finally March and Unbecoming a Lady, my brand new book is available March 15, and for pre-order now. It is a historical mystery with a unique amateur sleuth, Cora Countryman, in keeping with Jacqueline Winspear's Maisie Dobbs and Laurie R. King's Mary Russell.
I feel the excitement of a new release and a new series. It is the potential for telling new stories, in a new setting, in this case in Wanee, a small Illinois town, in the 1870s with a fun amateur sleuth and an unruly bunch of townspeople as allies.
Booklife reports: "Wanee is vivid and convincing, as is this depiction of a determined young woman … lovers of historical fiction packed with detail will delight in this refreshing offering."
From the back cover:
A torn sleeve, a bruised arm, and a lie.
A friend knocks on Cora Countryman's front door seeking help with the torn sleeve of her work dress, claiming she ripped it on a bush. As the town's seamstress, Cora has mended many a dress. So, when she sees a ragged tear in her friend's forearm and a bruise left by a thumb, Cora questions her friend's story. When Cora asks about the wounds, her friend is evasive. Worried by the lack of answers, Cora starts her own investigation.
When murder is done, Cora won't give in, back down, or submit to the behavior expected of a young lady in 1876 in a burgeoning Illinois prairie town. Why should she, she never expected to stay. That is until her mother abandoned her, leaving her heavily in debt, her reputation on the line, and the drudgery of a boarding house to run for one boarder.
Her intended life of mystery and adventure never seemed so far away.
* * *
A bit of Cora
In response to a question from Cora, the Methodist preacher's wife lists the passersby seen on her street and across from her home in the park:
"Just the liveryman, a delivery wagon of coal, Mrs. Layman and Mrs. Sullivan chatting." (The preacher's wife) pointed toward a stand of marsh grass along the edges of the pond. "And that new Constable, John or Jack McKie, I believe."
"Quite the parade!"
"I was on my porch sorting roses for the vestry. By the way, Mr. Kanady is not the only eligible bachelor; Mr. McKie is unmarried, as well. He is a strong, handsome sort. Dashing in his uniform. And I hear seeking a wife that might ensure his position in the community. And, of course, there is that darling new doctor. He is a gentle sort and I think a bit shy that he cannot see distances, but he does have the prettiest brown eyes."
"I think you are a bit smitten with the new doctor, Dr. Shaw, correct? Well, none of these fine unmarried men need look my way. I am determined to stay single, joining the growing number of women who choose the unmarried life, preferring a life of learning, travel, and enrichment instead."
Cora is feisty, fun, rash, fearless, and above all loyal.
Did I mention the release date for Unbecoming a Lady is March 15? The eBook is available now for pre-order on Amazon. Try it, you'll like it or so I'm told by those who previewed the book. If you do, please leave a review.
Janet Dawson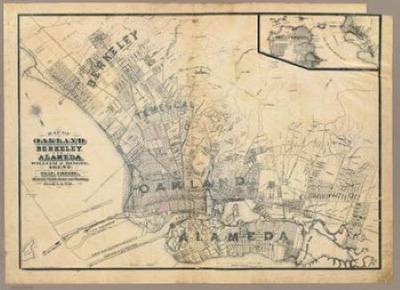 Alameda, California: A Lovely Place to Die
Welcome to my island city.
I often tell people I live on an island in San Francisco Bay, off the coast of Oakland. Indeed, Alameda is an island now, but it wasn't always.
As you'll see from the old map, Alameda was once a peninsula, with the east end a marsh on San Leandro Bay. In a move to expand shipping facilities, a project began in 1874, lasting until 1902, dredging a tidal canal that separated the peninsula from the mainland. The resulting channel is what we locals call the Estuary. It's also Oakland's Inner Harbor. It definitely has a maritime presence, what with the dry docks and marinas. And ferry terminals connecting Alameda to Oakland and San Francisco.
The wetlands on the west end of the island were filled in 1927 to create an airport, then ceded to the federal government in 1936. Construction on the Alameda Naval Air Station began in 1940 and once the United States entered World War II in 1941, this became a busy military base with ships and aircraft, and a huge military population supported by thousands of civilian employees.
It's not like it was in the old days, back during the Vietnam Era. Jeri visits the old base in The Things We Keep: "When I got out of my car, I stood for a moment, listening to the seagulls cry as they circled overhead. I imagined the sounds I would have heard back in the days when the air station was home to ships and squadrons, with the blasts of ship horns and the scream of jet engines, the thrum of rotating propellers and clanking of anchor chains."
As for a good place to die, there's the USS Hornet, which is anchored at the base. The old aircraft carrier is reputed to be haunted by the spirits of those who served aboard the ship. What an intriguing place for a murder!
The base closed in 1997 and the land turned over to the city of Alameda. Redevelopment happens, in fits and starts. New apartments are going up in several areas, while at the old Navy commissary, the building is falling apart and weeds are pushing through the asphalt parking lot. There are many locations on the old base, like this one, that would be a good place to hide a body or cover up crime. At least my mystery writer's mind thinks so.
The South Shore area is separate from the main part of Alameda Island by a lagoon, and the north short was the original south shore of the island. It was filled in the late 1950s. South Shore has a long beach that may look inviting, but that water is cold. Beware!
Since it's an island, Alameda has limited points of access. The Tube, as Jeri calls it, really two tubes constructed under the Estuary leading to and from Oakland. And four bridges—Park Street, Fruitvale, High Street, and the one leading to Bay Farm Island.
The island city is full of old Victorian houses, like the one that inspired me to write The Things We Keep. You never know what might lurk in a disused attic or basement storeroom.