The ones that got away. Books, that is. In this edition of the Bodie Blue Books newsletter, Janet Dawson and D. Z. Church talk about the books that haven't been written yet. And why.
Janet Dawson sez:
Kindred Crimes was not the first book I wrote. It was the first one that got published, though. Like many writers, I have early efforts and unfinished projects, tucked in file boxes, scribbled in notebooks, and living on my computer.
I was in elementary school when I began writing stories. In the sixth grade, I wrote a mystery story and illustrated it myself. In junior high, more stories. Then there was that tome about a circus stranded by a blizzard. In Wyoming. Write what you know? Ha! Well, I'd been to Wyoming. In high school and college, I wrote stories and poetry, some of which were published in the campus literary magazine.
I can't remember when I started that first book. It wasn't a mystery. The protagonist goes home to visit her estranged family because her father is dying. Then her black sheep brother shows up and things get even more dysfunctional. It was an exercise in learning how to write. But it never went anywhere—except into the file box that I've been lugging around all these years.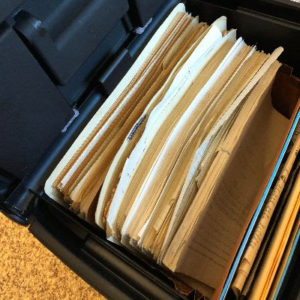 I went on to the next idea. This time it was a mystery, with a protagonist determined to find out who killed her father, a private investigator. That book went through several drafts until I completed it. I thought it was good. When I read through those yellowed pages, I still do. I was sending the manuscript out to agents, hoping for nibbles. Then I put it aside.
Why? The book that became Kindred Crimes was inside my head, scratching to get out. I couldn't ignore Jeri Howard and the plot any longer. So I got to work. I don't recall how many years it took, since I had a job and was writing in the mornings before going to work. I do know it took me six drafts. I started the search for an agent, because in those days, you needed one. I found one, in fact. And then I submitted the book for the St. Martin's Press/Private Eye Writers of America Best First Contest. And won.
That was over 30 years ago. Since then I've written and published 18 books: 13 in the Jeri Howard series, four in the California Zephyr series, and a standalone. Number 19 is coming soon, and that book will be the start of a new series.
What about those books that didn't get published? Well, never say never. Writers are the ultimate recyclers. Don't throw out an idea, however small. You never know when a scene, a chapter or a book may come back to life.
In the case of the first book, the one about the dysfunctional family, I look to Raymond Chandler, who once wrote, "When in doubt have a man come through a door with a gun in his hand." To me, that means adding a murder to the mix. It ups the ante. That dysfunctional family with the dying father and the black sheep brother? If someone winds up dead, all the better for the plot. I'll get back to it one of these days!
As for the second book, it's already a mystery. It needs some plot tweaks. And a new protagonist. I've got one. She's Maggie Constable, who first appears in my novella, But Not Forgotten. She moved into my head right after I attended my 50-year high school class reunion, speaking to me as I drove my rental car to the airport. While I waited to board, and all through my flight, I scribbled in my notebook. Maggie too was attending her high school reunion, determined to find out what happened to a friend who disappeared graduation night. I like Maggie a lot, so much that she needs her own book. I've already decided who gets murdered and what Maggie does to find the killer.
So the ones that got away haven't, not really. Those ideas are still lurking, waiting for me to do update and refresh them and resume the process of getting those stories out to you readers.
Let's hear from D. Z. Church:
One? It all started with a knock-off of Gone With the Wind written when I was eight.
I always wanted to write a children's book about a gathering of cats who discover that one of their owners is dead. The cats take matters into their own paws and solve the mystery. Then there is Georges, le Porc de la Rivière, the famous truffle pig from Montana, who becomes a French chef on a Mississippi River Boat. Pigs are great people and deserve to be written about, but probably not Georges.
Generally, my books start out with a smart-alecky tone that slowly gets less and less so as I write. I think it is sort of a mental exercise that helps me warm up to my characters. I'm used to that. What I'm not used to is a character who wants to stay funny. I'm several chapters into a book featuring a young clothing designer who wakes up in an alfalfa field after a convention "meet and greet" in Kingston, Ontario. What's written is a hoot. And, there it sits. Waiting for inspiration, a different plot, another alfalfa field?
I always thought I'd write a Western. But having just read Taos Lightning (Johnny D. Boggs), I'm not sure I could write something as delightful. It takes a certain set of skills (as they say) to write a convincing Western. I'm pretty sure I don't have them, though I am more than passingly familiar with farming, horses, and the great outdoors.
The Westerns of Max Brand and Alan LeMay impressed me during my impressionable years, particularly The Gentle Gunman and The Unforgiven. And, I once went to dinner with Louis L'Amour at the Top of the Mark in San Francisco. In those days, I was very up on the sheep wars and Billy the Kid. L'Amour seemingly enjoyed my company, his wife, less so. He shared that he thought Sam Elliot and Tom Selleck exemplified the characters in his books.
We both ordered saddle of rabbit for dinner. I thought I was over my rabbit problem until the rabbit was served, looking just like a bunny minus the head. Luckily, I had a charming dinner partner who didn't ask what my problem was, though my bug eyes and puckered mouth were hard to misread. I won't bore you with the issue either, except that seeing buckshot bunnies hanging—okay, enough of that. On the other hand, my tale might add color to a Western. If you haven't read Hondo or Conagher, do, they're definitely two of my favorites. Or if series are your thing, delve into the Sacketts.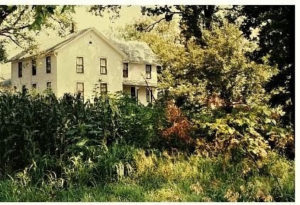 My biggest "got away" is a series I've been planning following an Illinois farm woman from the late 1850s to 1870 or so. I have the plot hook for ten books. I have the research started and know where to find the rest. I know what the farm looks like, how it is laid out, what it grows, where it is. All of my research and notes sit on my OneDrive waiting for me. Why?
I'm not sure, but I suspect: Some characters take a while to fully form themselves. Once they have, they inhabit you whispering their stories in your ear until their words flow onto the computer screen.
I think that's it.
I do know my farm girl is never far from my mind. Her name is most likely Cora. It would be an action-adventure/mystery series. Imagine a woman sent to marry a cousin she doesn't know on a farm in the West. She's never farmed, she's never lived on her own, she's never been out of New York State. And, she's sixteen. When she arrives, she finds herself promised to someone she can never love on a failing farm at the brink of the Civil War. What happens next?
Oh, many, many things, I reckon. If I'm lucky, this series will get written, but only when Cora or whoever she is, is ready to guide me.
For now, the third book in the Cooper Vietnam Era Quartet, Pay Back, can be pre-ordered on Kindle with a publication date of September 1, 2020. Booklife Reviews writes: "This wartime thrill ride turns the waning days of the U.S.'s involvement in Vietnam into a pulse-pounding, smart tale of suspense."
In a banker box, I have the whole backstory of the Cooper family from the 1920s. Hmmm? A prequel? Then there is an assignment in France in 1970 that fills in some blanks between First Sergeant Laury Cooper and Chloe Minotier.
You know the old saying, so many books so little time. Yeah, like that!