D. Z. Church:
Summer as a Character in All Its Glorious Diversity
Summer may be the worst season to blend as an essential character into a tale's telling. Every twenty degrees of latitude or longitude and two thousand feet of elevation change seasonal weather, plants, animals, light, temperature…well everything. For instance, in the Sierra, a warm summer day at 2000 feet can be a snowy day 3000 feet higher. Flowers that bloom at the lower elevation might not grow above it or not bloom until much later. The variance is wild, not like a snowy old winter when it is white and cold and bleak and dark and emotional. Summer is vibrant, full of life, color, desire, and dalliances…fodder for a thrill ride.
Summer Three Times Over
Three of my thrillers take place in summer, two technically in late spring, but as we all know, summer starts when school gets out. Booth Island (available soon) is set on a lake in Ontario, Canada, in June when the weather oscillates between hot and sunny, cool, and cool and rainy. Saving Calypso is set in the High Sierra on a semi-arid mountain in late spring when snow is still possible. And Perfidia takes place in Barbados, where the days are always about 12 hours long. Rather than explain how summer exhibits itself and impacts these tales, here is a selection from each: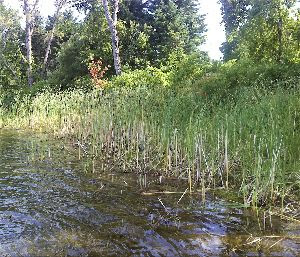 Booth Island: (Ontario) The day was silky warm. The blowback from the slapping boat splashed and dried, leaving cooled spots on my exposed arms and legs. The minute I throttled down for my approach to Dixon Landing, heat descended. Water bugs skittered across the surface of the sheltered cove while minnows dashed to and fro in the swaying seaweed. Leaves rustled overhead and in the brush. These late spring days, filled with the buzz of bugs, were spangled in light and froth. I had missed them these last nine years.
Saving Calypso: (High Sierra) Boomer struck a good pace, a little too good. Grieg gasped for air, his heart pounding from the diminished oxygen at five-thousand feet. Big trees waved overhead. The shush and a rattle of a freshening breeze trailed them up a steep hill, then down into a swale with a stream wandering through it. The grasses swirled as the blow reached the ground. Boomer pointed at the sky. Cumulus clouds, their bellies heavy with rain, swelled down from the north according to the mossy side of the pine trees.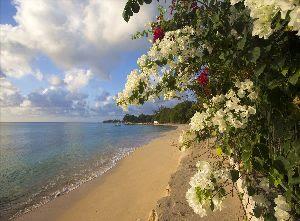 Perfidia: (Barbados) The wind increased parting the clouds to display the first hint of blue sky overhead. The squall she be blowing herself out. The patois was catching. The rain and wind had cleansed yesterday's dense smell. In its wake, delicate aromas were unleashed. With just the barest hint of sun, the island blossomed into colors straight off of a palate of primes. Breadfruit, banana palms, mangoes, coconut palms, heavy with fruit created a free fruit stand along the curving highway.
Summer defines the characters' environment, days, clothing, and actions. What Calypso wears in Saving Calypso would cause Olivia Lassiter in Perfidia to sweat down to a puddle. And, Olivia's clothing wouldn't be warm enough for Boo Treader to wear on Booth Island. The differing summer weather adds spice and the possibility of danger in each book.  Booth Island ends in a fierce rainstorm, Saving Calypso in a horseback dash through rough, wind-whipped terrain. And Perfidia ends on a softly warm, menacingly moonlit night of surging tide.
I hope that readers burrow in, cover up, and come along for the ride. If I've done my job, you'll want to buy tickets to the West Indies, drive into the High Sierra, or enjoy the locks along Ontario's Rideau Canal. In summer, of course.
Janet Dawson:
Winter. The solstice. It's the shortest day of the year. Daylight retreats from the encroaching, all-encompassing darkness. Sometimes bad things happen in darkness. I'm writing mysteries, after all.
Death Rides the Zephyr takes place in winter. It's December 1952, just a few days before Christmas. Jill McLeod is a Zephyrette. She rides the historic train known as the California Zephyr, traveling between Oakland, California and Chicago, Illinois. She's the only female member of the crew, making announcements and dinner reservations, offering first aid when needed. She keeps an eye on the passengers and their needs. And she is ideally placed to notice if anything goes wrong. Things like missing passengers—and murder.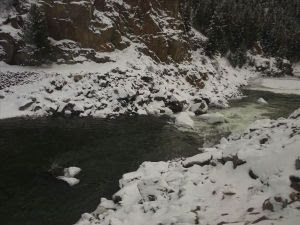 Why did I set the book in winter, in December? I needed cold and dark. The train is on an eastbound run. There's trouble as it winds through the remote canyons of the Colorado Rockies, following the twisting course of the Colorado River, covered with sheets of ice in the winter. Steep canyon walls close in, decorated with frozen waterfalls. Not that Jill or the passengers can see them once sunset plunges the canyons into icy blackness. Brr! Are you cold yet?
There are other reasons for the book to take place in winter. Jill became a Zephyrette after the death of her fiancé, who died in the Korean War battle at Chosin Reservoir, also known as "frozen Chosin," in December 1950. As the book opens, she's thinking about that anniversary and remembering her engagement. Now it's December again, with Christmas just days away, and Jill won't spend that holiday with her family in California. Instead, she'll be in a hotel in Chicago, on a layover before making the return journey to the Bay Area.
Nobody's Child, a Jeri Howard book, also takes place in December. The seasonal cue here is Christmas. After all, as Charles Dickens writes in A Christmas Carol, "it is a time, of all others, when Want is keenly felt, and Abundance rejoices."
Jeri, an Oakland private eye, isn't exactly in the mood. The holiday decorations are up but her holiday spirit is missing in action. She's conscious of the abundance in her life—family, friends, a comfortable home. But she's getting over a bad cold. The Bay Area is having a rainy winter that chills her to the bone. And she feels a chill in her soul as she dresses in grungy old clothes and steps into the world of Berkeley's homeless people, looking for the missing child of a woman who spent time living on the streets. Jeri's investigation takes her to places where want is indeed keenly felt.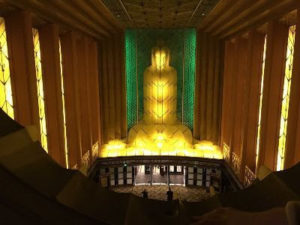 Instead of contrasting light and darkness, I contrast abundance and want. Little girls in fancy dresses pirouette in the ornate lobby of the Paramount Theatre, during an intermission of Oakland Ballet's The Nutcracker. And Jeri, undercover as a homeless woman in Berkeley, finds that people, even an old friend, look at her in a different way when she's wearing layers of ill-kempt clothes. 'Tis the season. As Jeri tells herself at one point, "I felt like a character out of Dickens, reflecting on the contrasts and contradictions of my own comfortable life and the existence of these people who lived in the park."
Doings:
D.Z.: Oh, my, you'd think with all the time on my hands that everything would be managed, lined up, given a lickin' of promise, and slapped on the bottom. Well… no.
I'm still reviewing proofs of Booth Island due out February 9. I swear these are the unruliest pack of characters I've ever dealt with…especially the bad 'uns. Here's a teaser: It's been nine years since Boothe Treader summered at her family's island. Twelve since her brother died on its rocky shore. Now, her mother has deeded her the island. Her dead brother is beckoning her back for a visit. And old friends are lining up to welcome her — or are they?
Next in line is Don't Tell, the fourth thriller in the Cooper Quartet. It's scheduled for release in fall 2021. I'm up to my ears in selecting a cover design and proofing. Meanwhile, I'm working on a new book, Alfalfa, for lack of a better working title, and plotting another dubbed Tumbleweed.
Also, on the 4th Thursday of every month, I contribute to the Ladies of Mystery blog. Check out the other ladies who contribute at ladiesofmystery.com. One is Janet Dawson. My, that's a familiar name.
J.D.: Oh, the lessons we learned, and the challenges we met. The pandemic has made me slow down, pare down, and consider what is important to me.
I really am a homebody. Despite my busy schedule during "normal" times, I am quite happy to stay home during the pandemic. Hey, I got a lot of writing done. I finished The Sacrificial Daughter, the first book in a new series featuring geriatric care manager Kay Dexter. Publication date—I'm aiming for February. I've started two other books. One is a historical novel about Billy the Kid and the Lincoln County War. The other is a Jeri Howard book.
I learned how to Zoom and use Google Hangouts, to see friends, family, and do events for promoting the book that came out in the fall, Death Above the Line. I even did video calls with doctors. D. Z. Church and I began doing this newsletter together. And I'm blogging once a month at Ladies of Mystery, so the challenge is coming up with a topic every month.
Challenges? Grocery shopping there at the start, with shortages and all that. Everyone decided to bake. I had a heck of a time finding flour, let alone yeast!
Hopes and plans? I'd like to finish at least one of those books I started writing this year. And see the publication of The Sacrificial Daughter, because it took me a while to write that book. And write more books, because I'm not getting any younger!
Reading and Viewing Recommendations
D.Z.: I know Christmas has come and gone, but if you've never seen the Christmas movie Prancer, I recommend that you do. It is delightful. It also has a great sense of season, Southwestern Michigan in December. I grew up there. Trust me, they capture the setting and season perfectly. As for a book with a strong sense of season, try any of the Dr. Alan Gregory mysteries by Stephen White, especially the early ones. Most take place in and around Boulder, Colorado. Dr. Gregory is a psychologist, his fiancée a prosecutor, and his good buddy Sam a cop. What fun!
J.D.: Under Violent Skies by Judi Daykin. I found this book because it was listed as a freebie on BookBub. Sounded interesting. It was. It's the first in a new series and I'll definitely buy the next book by this author. In addition to writing a bang-up debut novel, Daykin is a working actor who lives in Norfolk. She describes the rural vistas of that region so well I want to visit. Her protagonist is DS Sara Hirst, who leaves the Met in London and takes a job with Norfolk's Serious Crimes Unit. It's a promotion but her coworkers and some of the local residents aren't that welcoming. Plus her first day on the job involves a decomposing corpse in a ditch. Sara has her own agenda as well, looking for her long-absent father, who deserted her and her mother and moved to Norfolk.
Good Riddance 2020!
D.Z.: Missing everything, same as everyone else. My husband is afraid I'll trade him for a pint of New York Super Fudge Chunk. I would, but I'd have to wash the carton before he'd let me have it in the house. By the time I sat down and hunched over it with a spoon, the whole bloody pint would be melted.
I haven't seen my family or friends other than by Zoom since February. It is a bummer, but way better than the alternative. My sister and I play Words with Friends to keep daily contact.
Last summer, my husband and I had plans to hook up our trailer, grab our cat, and drive up the Pacific Coast to visit friends. That didn't happen. The trouble is, we aren't getting any younger, and even for the younger, this has been a tough year. Which is a smart-alecky way to deal with a list that is two people shorter.
We aborted an Amtrak trip East to see family before renting a car and driving to Ontario to visit our Canadian buddies on the lake. We miss them…a lot. Sigh!
To a glorious, wondrous, adventurous and book filled 2021!
J.D.: Oh, The Places We'll Go, Or Didn't. Colorado. Yes, the Centennial State. I cancelled three trips to Colorado this year. I didn't get to see Mom on her birthday. For the first time in years, I didn't spend Christmas with my family.
Left Coast Crime. Mid-March in San Diego. Arrived Thursday morning. The convention was cancelled Thursday afternoon by the county health department. After rescheduling my return flight for Friday morning, I went to the bar and drank a whole glass of Prosecco. Then to dinner with friends. Bouchercon in Sacramento. Cancelled as well. All those theater, symphony, and museum outings. Cancelled or postponed. Lunches and dinners with friends, which used to fill my calendar. Cancelled until we get through the current emergency.
Places I'd like to go when I can resume normal travel. Colorado, of course. As Mom said a few days ago, "I just want this to be over so you can visit!" And Greece. Since taking that art history class, I've wanted to go to Greece. Not this year. Maybe not even next. But it's a goal. In the meantime, once I can travel farther than the grocery store—Mendocino, a favorite place on California's rugged north coast. Time to go back, sit on a bench and stare out at the ocean. And think about the book I'll set there.
As I worked on this newsletter at the end of December, I spotted a pertinent article in the New York Times. The title says it all: When the Pandemic Ends, Don't Put Off Any More Adventures. Yes, it's time to think about Greece.
Onward to 2021! I don't have any Prosecco at the moment, but I'm raising my glass of iced tea. Here's to writing, reading, getting together with family and friends.